This time of the year, when friends, relatives and colleagues go on holiday, I tend to get struck by nostalgia and develop a feeling of homesickness for all the places I've travelled to. The main reason for this is that I don't usually go on holiday during the summer, and I haven't planned my next trip yet. An easy way to make sure these feelings don't turn into a bad case of the travel blues, is to keep myself busy with things involving my most recent trip, like writing a blog post or making a photo book. So when Saal Digital offered a free photo book in exchange for an honest review, I immediately signed up. The book arrived on Wednesday and I can honestly say I'm impressed and I'm not saying that because I got a free book.
Choosing a book
After receiving the confirmation that I would get to test a photo book, I looked through the options. As much as I would love to make a 120 page book – the maximum page limit of a Saal Digital A4 hardcover photo book – my current budget won't allow it. Perhaps one day I will have collected enough photos that are good enough to pass my own high standards, and I'll have one made. For now, I decided I may as well see how I could get the most out of the €40 gift card I had received. There's quite a few different kinds of books to choose from. I was tempted to go with a square shape, but I didn't really want to crop all of my photos. I ended up going for a 26-page landscape format A4 book, as I have never ordered a book with lay-flat binding before, and I was curious to see how my panoramic photos of my recent trip to Porto would look in this format.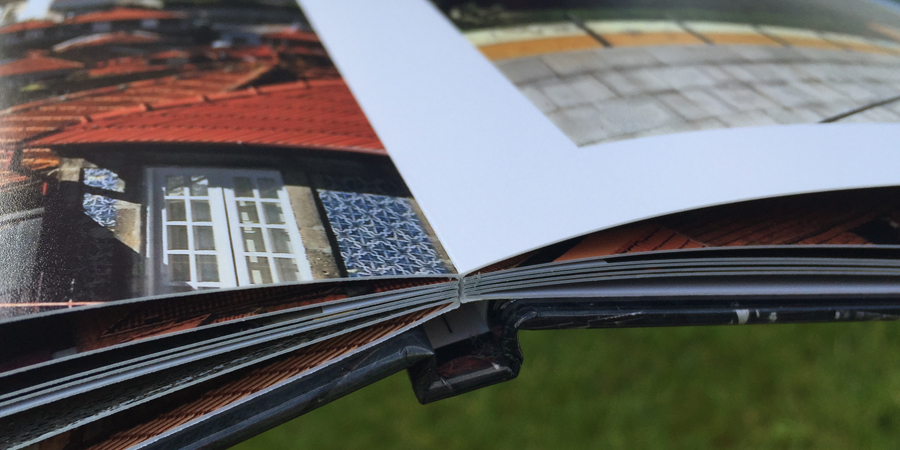 Additional options
I was happy to discover the option of removing the barcode from the book. Mind you, I think €5 is a bit steep, but at least they offer the possibility. For an additional €5, you get a padded cover instead of the regular hardcover. I am not really a fan of that, but I do think it would look cute on the smaller photo books. The option I did choose was the matte paper finish for the pages, which actually lowered the costs by €5, cancelling out what I would spend for the removal of the barcode. The option for glossy paper is selected by default, and even though I haven't seen their glossy paper, I really think matte paper is better. Glossy paper may be pretty, but it never stays nice for very long because it gets smudged with fingerprints far too easily.
Designing the book
Make sure you do a pre-selection of the photos you'd like to use for your book and place them in a separate folder. The software for making the book generates thumbnails in a panel on the left side of your screen. Searching through a large amount of thumbnails to find the right photo will not only be frustrating, but it is likely to slow down the software. The software is simple to use, and felt very intuitive to me. It gives you handy warnings when you place a photo too close to the margins or when the photo quality isn't good enough to blow it up to full page format. Don't ignore these warnings if you want your book to turn out nice. Bad photos on good paper will still be bad photos. Photos will easily snap to the lines indicating the edges of the page or the fold. To choose a lay-out design for multiple photos on one page, simply find a design in the sidebar and drag it onto the page. I didn't use the lay-outs much, as they don't match the 3:2 photo format that a DSLR camera produces. I believe compact cameras use a 4:3 format, which would probably suit the pre-programmed page lay-outs better. Fortunately it's not hard to change them around a bit to fit your personal preferences.
Delivery time!
When I ordered the book on Sunday evening, I didn't expect to receive it just three days later, as they are printed in Germany. I always worry about what happens to parcels on their journey to me, but I needn't have worried. Well protected by plastic, foam and a sturdy cardboard envelope, the book arrived in perfect condition. I was very impressed with the quality. The books I've ordered in the past had pages made of normal paper. The pages in this book are made of real photo paper and I was instantly thankful for my decision to go for matte paper. >The thick pages instantly reminded me of the analogue age, when my dad used to have our family holiday photos developed on matte photo paper.
tl;dr ?
Long story short, I'd give Saal Digital's hardcover book a 9 out of 10. I'm in love with the photo paper, the colours turned out great and the delivery time was incredibly short.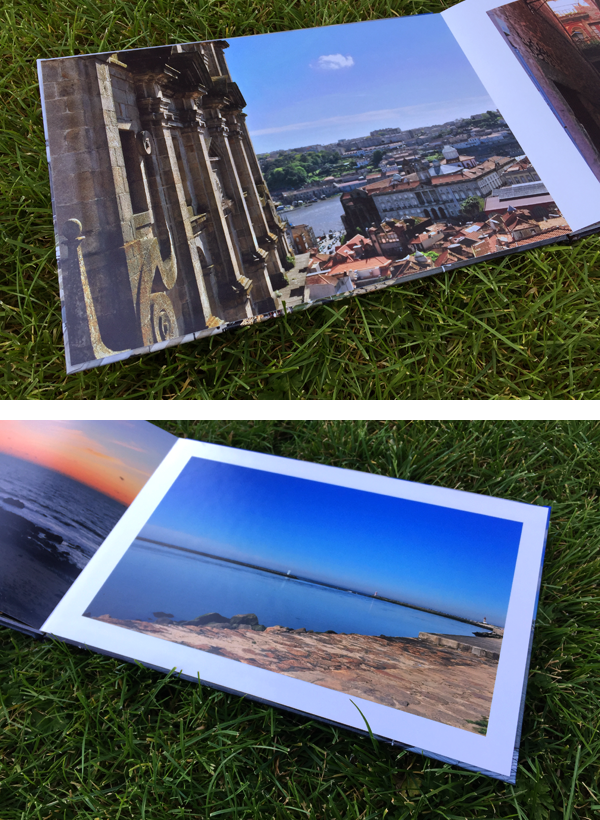 There's a very good chance I'll have another book made in the future. They currently offer a €15 discount for new customers, so if you're thinking of having your own photo book printed, you may as well profit from this and save some money. The only downside: you'll have to be quick about it, as the promotion ends on the 31st of this month. If you do decide to make one, let me know what you think when it arrives!