I wasn't sure whether or not I was going to visit Hong Kong Disneyland while I was in the city. As far as theme parks go, Disney parks are very expensive. On the other hand, I'd always wanted to visit one and now that I was so close to it, I might as well go. It turned out to be one of the best days I had in Hong Kong.
I already loved theme parks when I was a kid. I'd visited a few of them on school trips and just like many other kids, I dreamt of visiting Euro Disney, as Disneyland Paris was called back then. My parents used to dismiss that thought by telling my brother and I that dad didn't want to drive in Paris. Fast forward a couple of years to when I was 11. We were camping in Northeastern France during the summer holiday. The campsite we stayed at organised a day trip to Disneyland. I was certain that this solved everything and we could finally visit Mickey Mouse. However, as you've probably guessed by now, we still didn't go.
Hong Kong Disneyland
I wasn't sure whether I wanted to visit Hong Kong Disneyland though. I guess I was worried it wouldn't be the same as an adult, or that it would just feel overpriced because it's Disney. In hindsight, I'm glad I ended up going though. Yes, it's overpriced, but I wouldn't have wanted to miss it.
The fun already starts on the MTR. The Disneyland Resort Line uses special Disney themed trains. The windows are Mickey-shaped and there's a bunch of cool statues. The Disneyland station looks incredible as well, with fun details like pillars made to look like Mickey's sorcerer's hat. As I walked up to the entrance, I noticed that everything was already Halloween-themed. I hadn't expected that, because it was only September. The tropical climate of Hong Kong had made me forget it was about to be autumn. It is my favourite season though, and the decorations all looked fantastic.
Seeing a Disney park without the crowds
At the time of my visit, Hong Kong tourism had taken a huge hit due to the ongoing protests. I don't want to go into the details of something like that on my blog, but it was impossible to miss the impact of it on the city. A lot of places, such as the otherwise hugely popular Peak Tram, weren't all that busy and there were hardly any queues. The same turned out to be true for Disneyland. Where Disney parks are usually quite notorious for their long queue times, this actually turned out to be the least busy theme park I have ever visited. Apart from the photo opportunities with the Disney characters, there were hardly any queues at all. I could basically walk straight on for most of them, or I only had to wait about 5-10 minutes. Even Main Street was virtually empty.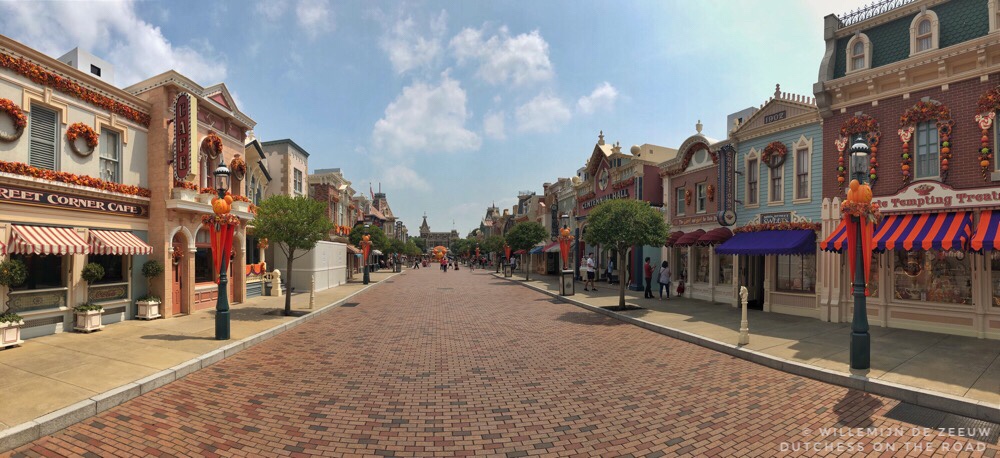 I loved all the buildings on Main Street, and their autumn decor. The iconic view of the castle at the end of the street was pretty disappointing though. Due to ongoing renovations, most of the castle was wrapped in scaffolding. However, the new castle was recently unveiled as a part of the park's 15th anniversary celebrations. Rather than a Sleeping Beauty castle, they've turned it into a castle that represents all of the Disney princesses. Each turret is different, to represent a different Disney film. I would love to go see the new castle in person. At the time of my visit, it was still a bit of an eyesore though, so I took my photos of Main Street in the opposite direction.
Minnie Mouse drawing lessons
Before I even went on any rides, my eye was drawn to a sign advertising drawing lessons at the Animation Academy. I've always loved to draw, so I made a beeline for it. The next class was a lesson on how to draw Minnie Mouse. Although the whole thing was in Chinese, I could still follow along with the images on the screen. I had a lot of fun, and they even offered to hold on to my drawing until the end of the day!
After the drawing lesson, I made my way to Tomorrowland, where I went on some Marvel-themed rides. I have never watched the Marvel films, so the theming was a little bit lost on me. The Iron Man ride was fun though, as it's a 4D film that has you flying through the incredible urban jungle of Hong Kong. The Star Wars themed Hyperspace Mountain was also quite good. This corner of the park was oddly quiet this early in the day though. I made my way through it rather quickly, and moved on to Fantasyland.
Classic Disney vibes in Fantasyland
Fantasyland is the most "old-school Disney" section of the park. This is exactly what I'd had in mind when I was a kid. I walked around a bit and then went on the incredibly cute Winnie the Pooh ride and the classic Mad Hatter's Teacups. After that, it was time for the most iconic Disney ride: It's A Small World. Even saying that name gets the song stuck in your head. Even for this ride, the queue was virtually non-existent. I had a boat all to myself, and I was very thankful for that. I watched the puppets, which are themed for a bunch of different countries.
What I didn't expect to see, is a section for Holland, since it's such a small country. Apparently our windmills and tulips are too iconic though. What I didn't expect either, was to be hit with so much emotion when I was on this ride. There was a part of the song that had me crying my eyes out. I guess it just made me painfully aware of the fact that I would soon be on the opposite side of the planet again, very far away from my friend here in Hong Kong.
There is just one moon and one golden sun
And a smile means friendship to ev'ryone
Though the mountains divide and the oceans are wide
It's a small world after all
Disney themed dim sum
After that emotional rollercoaster, I decided it was time for a break. I went off to the restaurant that is made to look like it's inside a castle. The Royal Banquet Hall serves the classic theme park grub like chips and pizza, but I was drawn to something else. Instead of greasy fried food, I chose dim sum. These were the most adorable pork buns I've ever seen. Usually the food in theme parks isn't all that good, but in this case I was pleasantly surprised. Although I have to admit I'm not that picky when it comes to dim sum.
I spent the afternoon going through the other areas of the park. Adventureland was surprisingly uneventful. Toy Story Land was one of the best themed areas in the whole Hong Kong Disneyland park. You actually feel like you've shrunk down to the size of toys, because of the scale of the decorations. It's a small area, but also one of the most fun areas. I took a picture with Buzz Lightyear and went on the Toy Soldier Parachute Drop, as well as the kiddie ride Slinky Dog Spin.
The last ride I went on was the best one of the whole park. Located in the Grizzly Gulch section of the park is Big Grizzly Mountain Runaway Mine Cars. The ride is incredibly well integrated with the landscape. It is the most fun runaway mine train ride I've been on. There are three sections to it. One section has a launching mechanism and another section is backwards. I took advantage of the absence of queues and went on it multiple times in a row, riding the front and the back seats of the train.
The Halloween parade at Hong Kong Disneyland
Due to the efficiency with which I had been able to go through the park, I had plenty of time left after I went on all the rides. Once again, it was a very hot day in Hong Kong, so I didn't really have the energy left to stay until the end of the day. The Halloween parade was at 16:15 and immediately after that was a meet and greet with Mickey and Minnie, at the beginning of Main Street. I hung around in the shops for a while, waiting for the parade. I bought a Halloween themed set of Mickey ears and a very cute case for my phone.
The parade was a lot smaller than I had thought it would be, but a lot of fun nonetheless. I loved all the Halloween decorations in the park, so the costumes and the decor for this parade didn't disappoint either.
Meeting Mickey and Minnie Mouse
After the parade, I made a beeline for the meet and greet queue. The wait was a lot shorter than it had been in the morning, when I'd abandoned the same queue after standing in the hot sun for about half an hour without really moving forward. This time around, I didn't have to wait very long. It was a really fun moment and I'm very happy with the photos. I couldn't have asked for a better way to finish my day.
In the end, I'm really glad that I stopped going back and forth on whether or not I should visit Hong Kong Disneyland. No, it's not the Euro Disney of my childhood dreams. Yes, it's different as an adult. Yes, it's overpriced because it's Disney. However, none of that matters now, because I had a fantastic time. I hope to take this as a lesson for my future travels. If I can reasonably afford to do something or go somewhere, I shouldn't hesitate so much. I should just go for it. After all, you will never remember the money that you saved or the things you didn't do. I splurged on a ticket, and on souvenirs as well, but I'll remember that day for a very long time. As cheesy as it sounds, that's worth a lot more.