Before my trip to Hong Kong, I was in two minds about taking a day off my precious time there to visit places outside the city. I feared there wouldn't be enough time to see Hong Kong and I didn't want to waste a lot of travel time by visiting places outside the city. However, when I was there, I just couldn't resist the urge to hop on a ferry for a day trip to Macao and cross another country off my list.
Just like Hong Kong, Macao is a special administrative region of Hong Kong, but with its own flag, currency and laws, it might as well be a whole other country. Macao used to be a Portuguese colony, and that history is visible everywhere. The buildings, the food and even the black and white mosaic pavement reminded me so much of Porto, it was hard to believe I wasn't in Europe.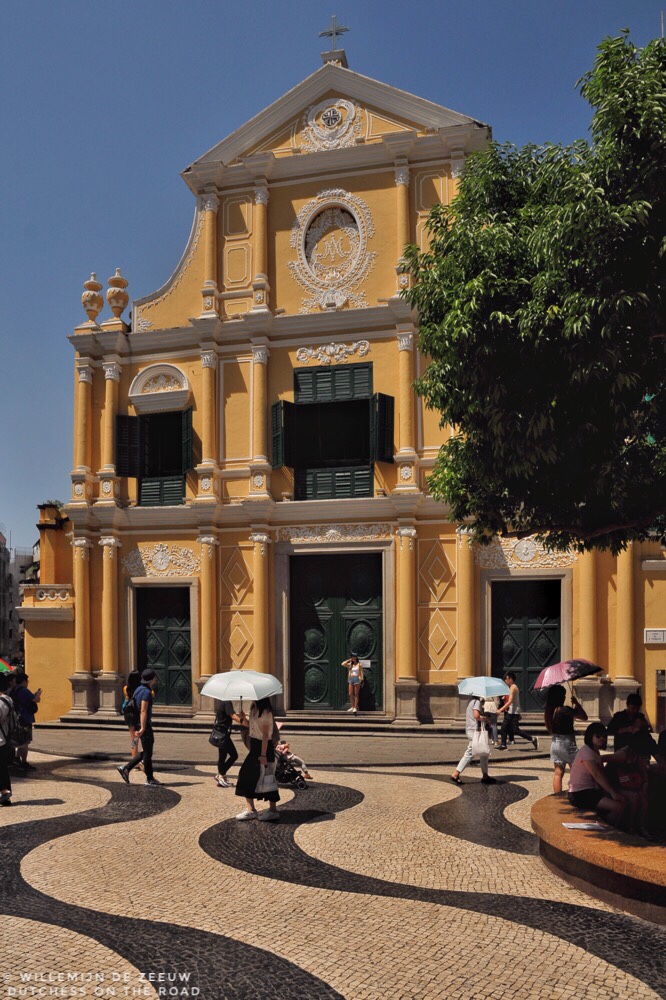 But I'm getting ahead of myself. Let's start at the beginning. One evening in my hotel room in Hong Kong, I decided that I simply couldn't miss the opportunity to add another country to my list of places I've visited, especially since it wasn't that far away. I did a quick bit of research on what to do on a day trip to Macao, which lead me to many pictures of excellent-looking Portuguese food. How could I not go after that?
Taking the ferry to Macao from Kowloon
The next morning, I made my way to the ferry terminal in Kowloon, where I boarded the boat to Macao. Like some of the other places I'd visited that week, there were a lot less tourists than I would've thought. On the hour-long ferry ride, I met three girls from Indonesia, who were also taking a day trip to Macao. We got talking about travelling, and decided it would be fun to explore Macao together. They hadn't really researched anything, whereas I had made a whole list of places I might want to visit, and the girls seemed interested in tagging along.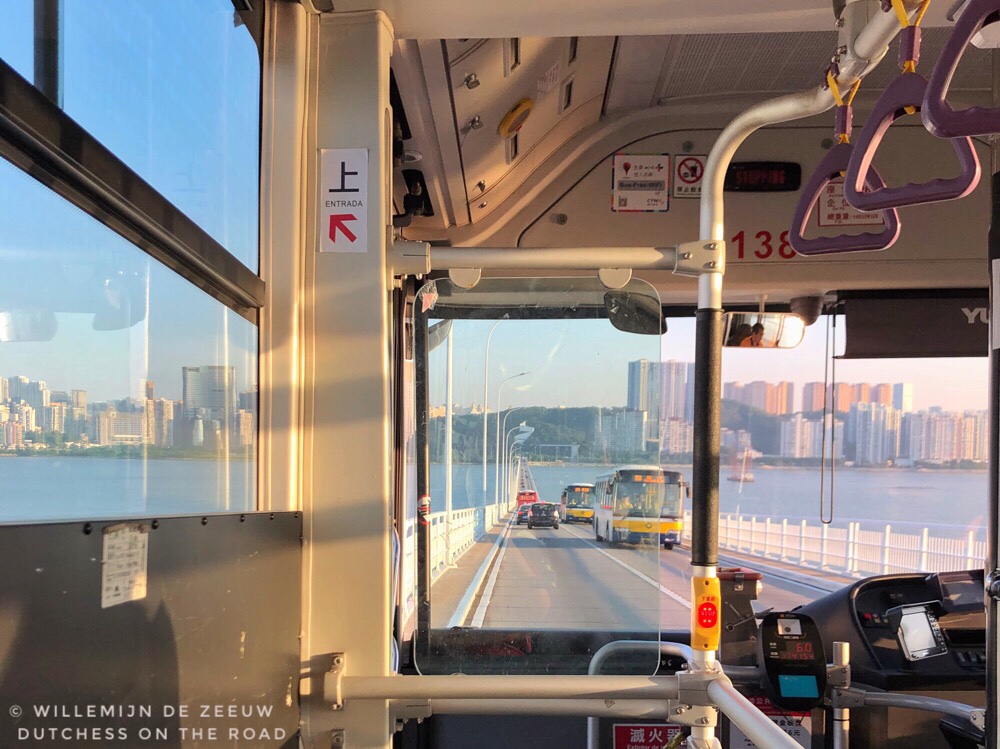 Asian Las Vegas
After going through customs at the Taipa ferry terminal, we took the bus to the city centre. To get there, the bus crosses a 2,5km long bridge across the bay, which gave us a fantastic first view of the city. Macao is sometimes called "Asian Las Vegas", and it's not hard to see why. There are a lot of casinos, and the style of the skyscrapers seemed a lot different than in Hong Kong as well. Most prominent are the Macao Tower and the golden shimmering tower of the Grand Lisboa hotel and casino. Macao's casino's are the backbone of the city's economy, and the number one selling point for most tourists, especially since gambling is illegal in China.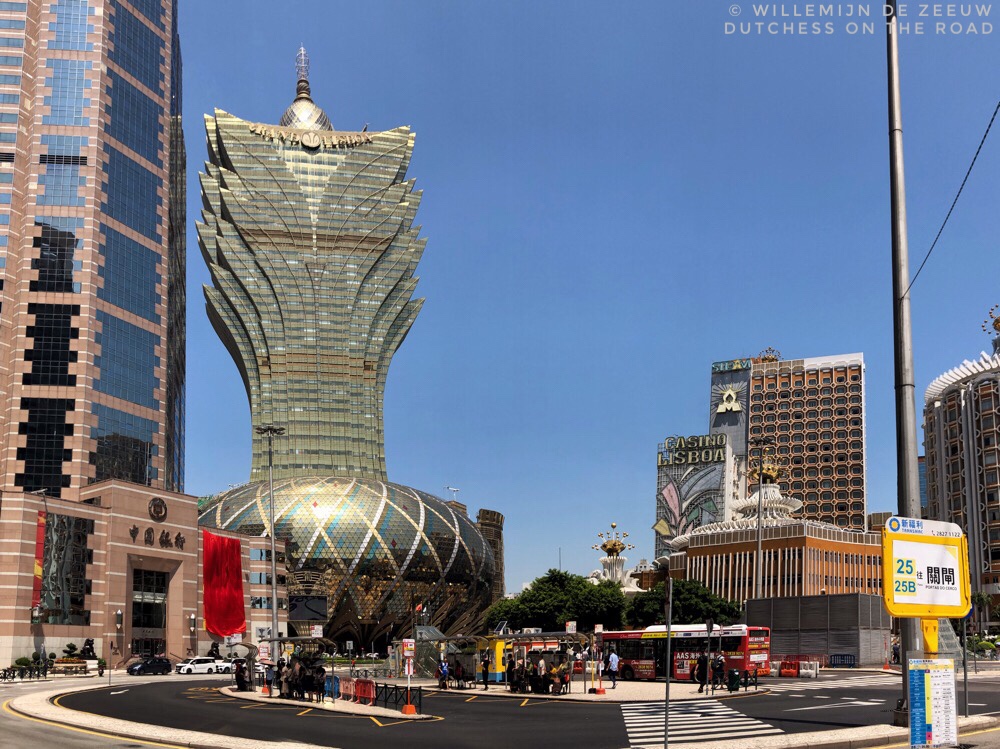 After walking around for a bit gawking at the skyline, one of the Indonesian girls kept getting sidetracked by the many big brand fashion shops. It was becoming quite clear that she wasn't interested in sightseeing. She wasn't too keen on walking anywhere, and insisted on taking a taxi to the nearest Indonesian restaurant, and spending her time in Macao mostly on shopping. Since none of that matches with the way I like to travel, and the other girls couldn't convince her to go sightseeing, we decided it would be best to go our separate ways.
Exploring the historic centre of Macao
I went off on my own and soon found my way into the historic centre of the city, which looks the complete opposite of the shiny gambling metropolis that I'd seen earlier. Among the charming colourful façades, I soon found a pasteleria, where I bought a pastel de nata (a Portuguese custard tart) that tasted exactly like the ones I'd had in Porto. Macao was clearly a lot more enthusiastic about the upcoming birthday of the People's Republic of China than its conflicted neighbour Hong Kong was, as there were plenty of decorations in the streets to highlight the event. The buildings in this part of town looked predominently Portuguese, with wrough iron balconies, pastel yellow buildings, black and white mosaic pavements and even some of the typically Portuguese tiles called azulejos.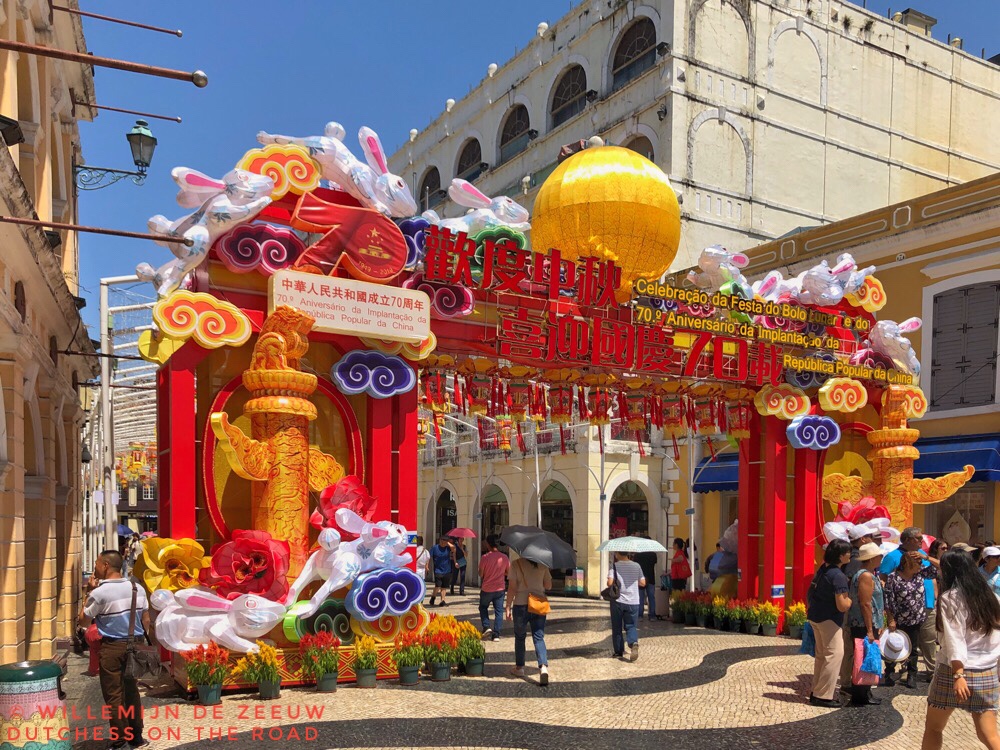 Lunch
I wandered through the streets admiring the architecture and looking for a good place to have lunch. Besides the pasteis de nata, the websites I'd looked up the day before had all recommended trying a pork chop bun. Although it tasted delicious, there is one thing fundamentally wrong with this dish. The bread roll is cut in half vertically instead of horizontally, which makes eating it hugely impractical. Even though this is also done for some typically Dutch sandwiches, as well as hot dogs around the globe, it has never really made any sense to me. The pork chop tried to escape the bread with every bite, but it made for a tasty and memorable meal. Of course I couldn't resist taking another custard tart as well, since I'm basically addicted to them and who knows when and where I'll find a proper one again in the future, right?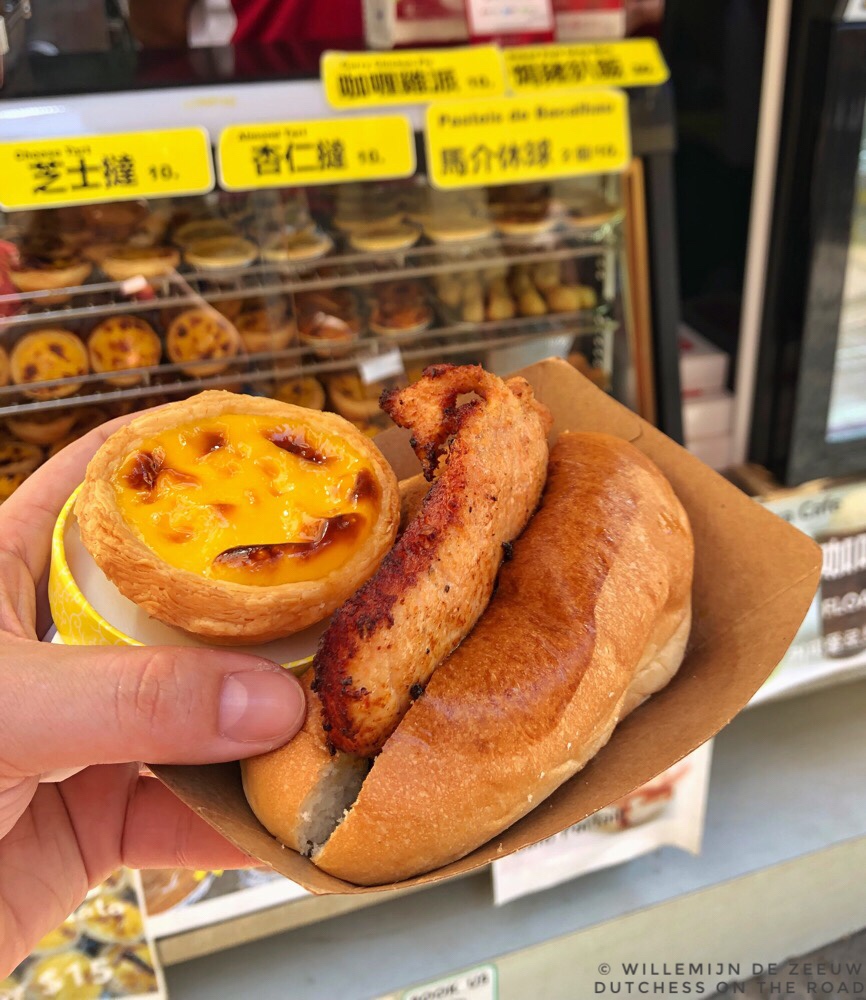 After lunch it was time to explore some more of the city, I only had one day after all. I made my way to the Fortaleza do Monte, an old fortress on top of which the Museum of Macau is located. I didn't visit the museum, but the view from the top was incredible, and showed a fascinating contrast between the historic centre and the modern city.
Next up were the ruins of St. Paul's (Ruínas de São Paulo), a 17th century church of which only the façade remains. When I got there, the steps in front of it were absolutely packed with people trying to take the perfect selfie, so I quickly moved on.

The Guia hill lighthouse
The other place in Macao I wanted to visit was Guia Hill, which was about a twenty minute walk. On top of the hill is a lighthouse that is oddly far away from the water, although I suppose they had to build it in a high place. I took the cable car to the top of the hill, as the weather was way too hot to walk up there. The lighthouse itself looked a little worse for wear, and wasn't open for visitors, but the view was more than worth the trip up there. I did visit the church building next to the lighthouse, but unfortunately it was in scaffolding, so I couldn't see the outside of it. Perhaps the most interesting thing part of the fortress itself is the military tunnels underneath, a section of which has been turned into a museum.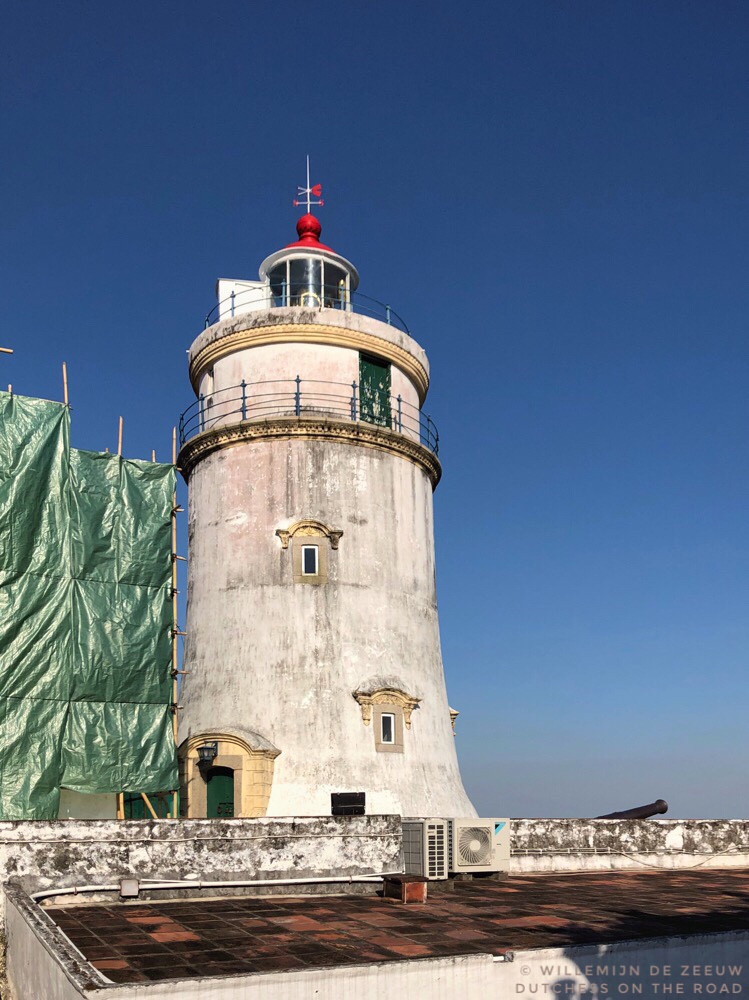 After wandering around some more, I made my way back to the ferry terminal. On the bus ride, I briefly wondered what the Indonesian girls had been up to and whether or not they had enjoyed Macao as much as I had. At the ferry terminal, I was busy going through my back to get my ferry ticket and my passport ready, and to my surprise I saw the girls were in the same queue for customs. After hearing their stories, I was glad we parted ways early on, as they mostly spent their day shopping and then ended up at one of the casinos, without doing much sightseeing at all. I'm glad they had fun, but I'm also glad I spent my day trip to Macao doing pretty much the opposite.