When I researched the best places to visit in Hong Kong, I came across a bunch of lists with foods to try or restaurants to check out. Many of the recommendations fell into the street food category. I wrote a list, skipped breakfast and went on a DIY food tour. I love to eat street food when I travel. More often than not, it is made by someone who spends every single day making the same dish, perfecting it into a snack or a meal loved by both tourists and locals.
Steamed pork bun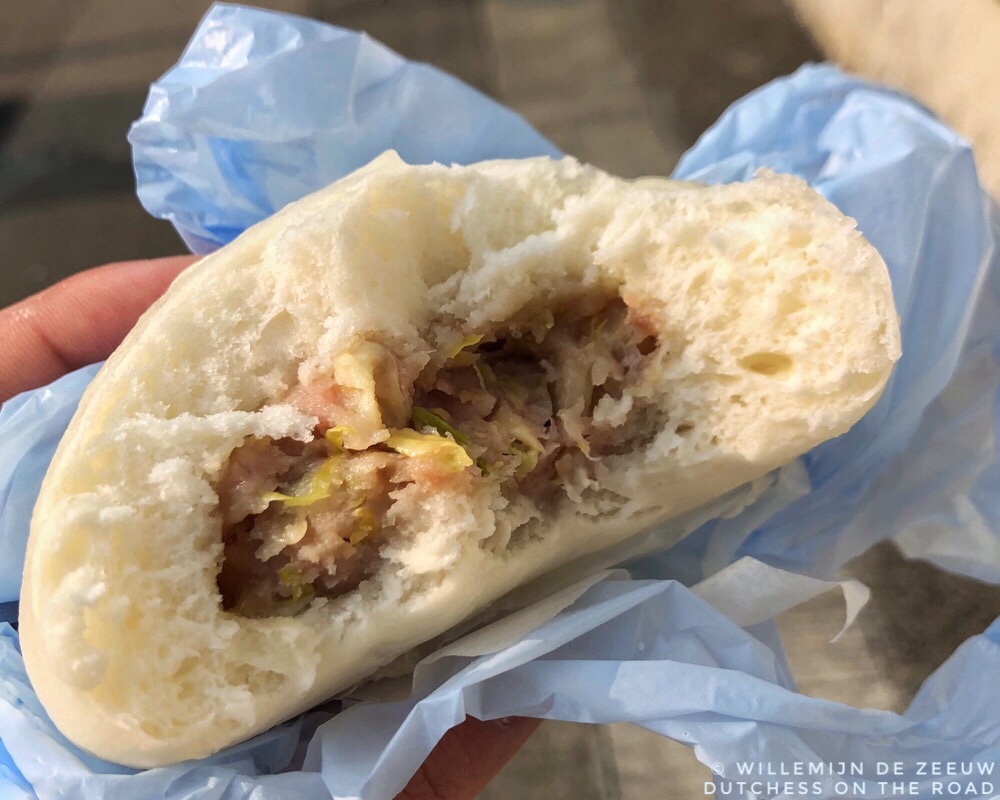 The first stop on my DIY food tour was just around the corner from where Janet and I had been shopping the day before. On the corner of Shanghai Street and Pak Hoi Street is a small shop that sells dumplings and steamed buns. When my favourite travel YouTubers Kara and Nate visited Hong Kong, this shop quickly became one of their favourites. Naturally, I had to go there as well.
The signs were all in Chinese and the only other customers seemed to be locals. In my experience, that means the food is bound to be good. I went with a pork bun and I wasn't disappointed. The dough is super soft and slightly sticky, which makes eating it out of a plastic bag kind of funny. The taste was great though. Interestingly, the filling reminded me a lot of the pirozhki's I'd had on the train in Russia. I'd have returned to this shop many times, if it wasn't for all the other great food in Hong Kong.
Curry fishballs and siu mai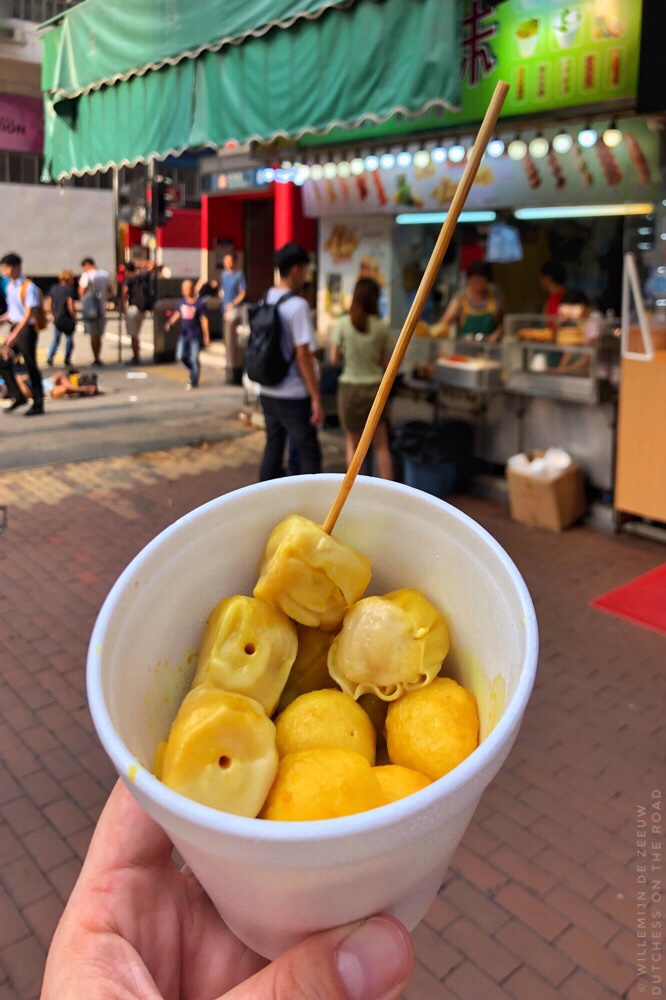 The most iconic Hong Kong street snacks must be curry fishballs and siu mai on skewers. Right outside one of the many exits of the Mong Kok MTR station is a small street food shop. They had a fascinating array of foods on skewers, many of which I couldn't identify. There were also two containers of fishballs, which the shopkeeper explained were "spicy and not-so-spicy". I decided to go with the less spicy ones, but I was too curious and asked her to add a single spicy fishball as well. They're not joking around when they say "spicy". I was glad to have tried one, but even more glad that the rest of them were the regular fishballs, where the heat of the sauce didn't overpower the taste so much.
Along with those, I had ordered siu mai: dumplings filled with a mixture of pork and white fish. They're one of the more normal-looking options among the foods on skewers. Other options include pork intestines, chicken gizzards, octopus legs, stinky tofu and hilariously: cocktail sausages. Most of those didn't sound too appetising to me, although I do wish I'd tried the octopus legs. I did go back multiple times that week for the fishballs though.
Mango and coconut juice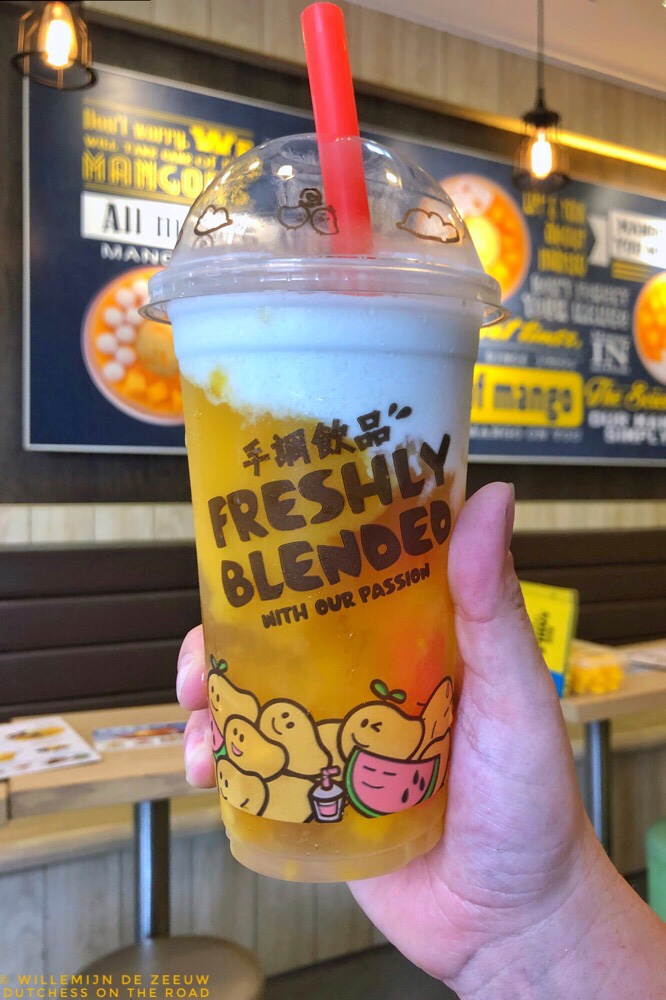 In the hot weather of Hong Kong, there is nothing better than an ice-cold fruity drink. Hui Lau Shan sells a variety of drinks based on mango juice, combined with other fruit flavours. I chose the mango and coconut juice with mango jelly. The jelly chunks sit at the bottom of the cup like tapioca balls in bubble tea. It's the perfect mix of fruity and refreshing. I sincerely wish I could buy these drinks in the Netherlands, because I have missed them ever since I came home.
Egg waffles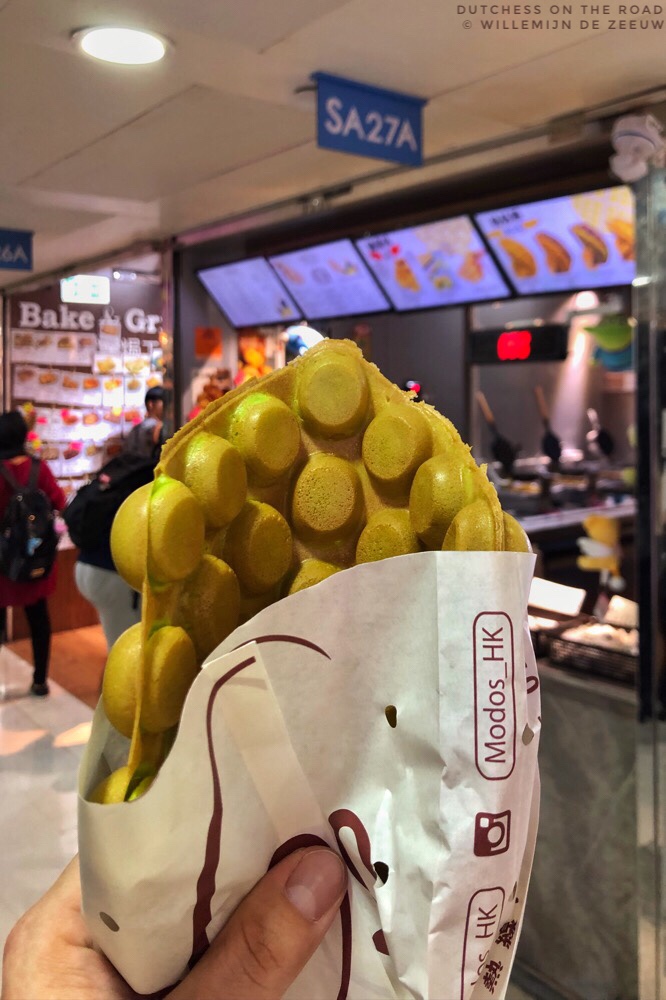 If you have a sweet tooth, you'll love egg waffles. They're also known as eggettes, and come in a variety of flavours. It's fun to watch them being made. An egg-rich waffle batter is poured into a hexagonal waffle iron, which is then flipped so the waffle cooks on both sides. This makes the outside nice and crispy, while the inside becomes soft and fluffy. I came across a small stall selling a bunch of different flavours in the middle of a very cramped shopping mall. Instead of going for familiar flavours like vanilla or chocolate, I tried the pandan flavour. It was bright green inside, and not nearly as sweet as it looked, but definitely very tasty.
Roast goose and bbq pork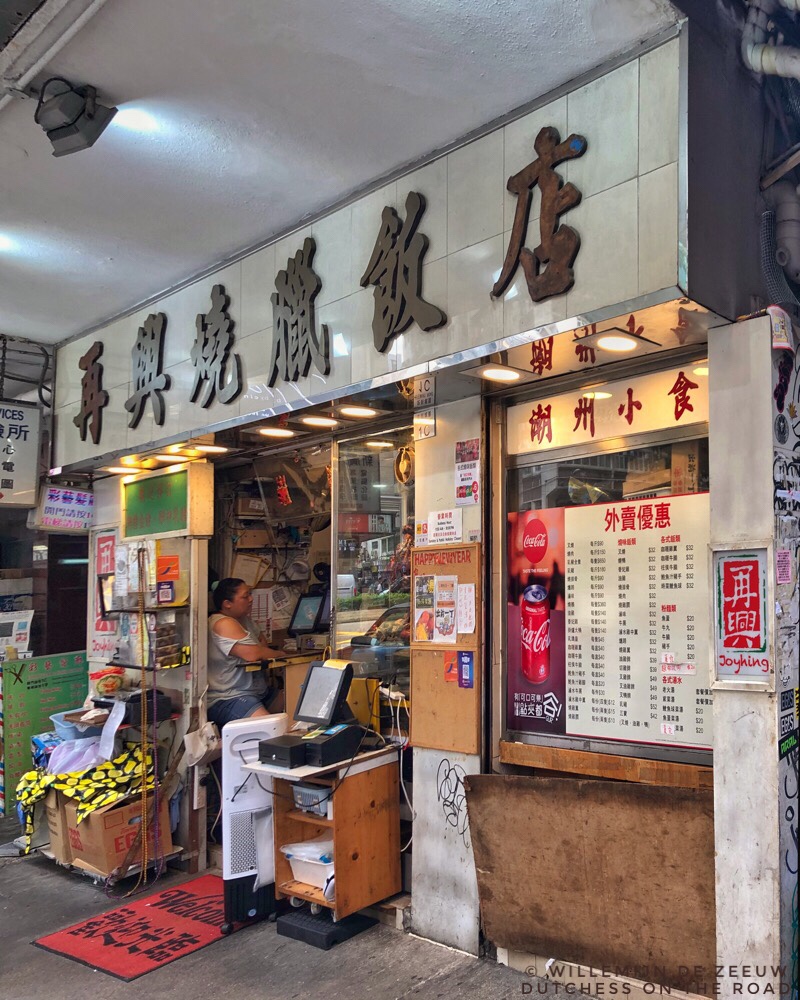 For dinner, I went to Central and made my way to a restaurant called Joy Hing Roasted Meat. It's a tiny little place, where no one speaks any English and there are no translated menus. Roast ducks and geese are hanging in the window next to the kitchen. There is a limited amount of dishes on offer, but they all look great. The owners run the shop very efficiently. They have to, because it's very popular and there's only a handful of tables. When the place is busy, as it often is, you simply get grouped together with other people at one of the small tables.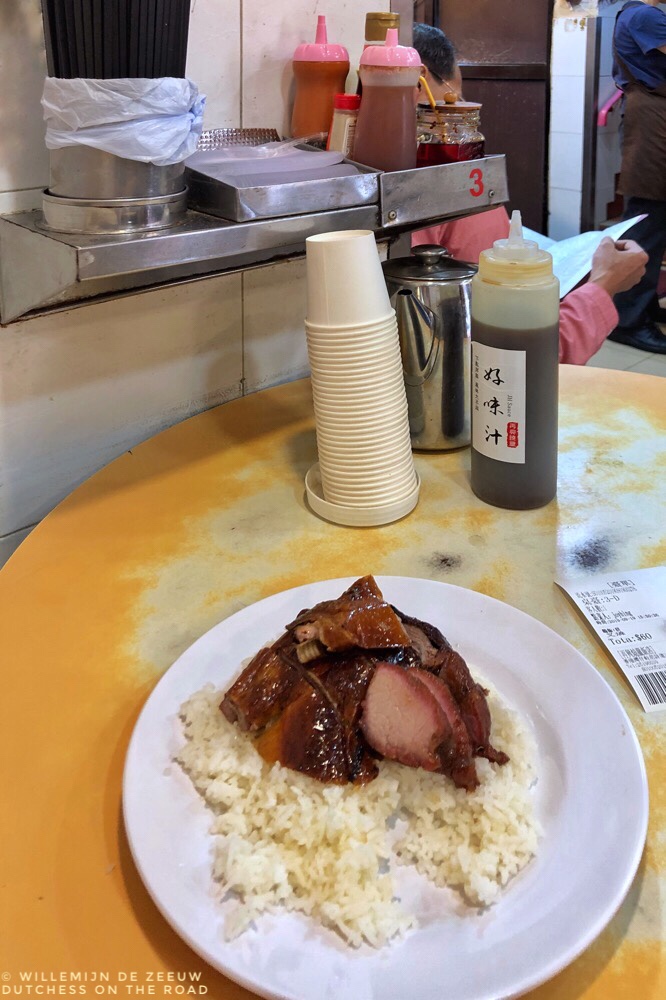 The person pointing me to my table simply asked me "goose?" I nodded and sat down. Within two minutes, a steaming plate of roast goose and char siu (bbq pork) over white rice was put in front of me. I grabbed chopsticks from the container on the side and tucked in. I didn't quite know what to expect, because I'd never had goose before. The meat was very juicy and tender, with a thin crispy skin. It tasted especially good with some of the sweet sauce that was on the table. The char siu was exceptional as well, which should be no surprise, as it is said to be the best in all of Hong Kong.
This meal wasn't an excellent end to my DIY food tour already. Then it got even better when I ended the day by taking the Star Ferry back to Kowloon. The view of both Kowloon and Central's colourful lights at night was absolutely magical from the viewpoint on the waters of Victoria Harbour. It obviously took a little longer than simply taking the MTR, but it was very much worth it.