One of my favourite ways to spend a cold winter evening is curled up on the sofa with a cup of tea and a good book. I also spend plenty of time reading when I'm on the road. I always carry a book with me when I travel and nearly always buy an English book at the airport. I spend most of my time on planes and trains with my nose in a book. I really enjoy finding a nice spot to read outside when the weather is nice. During my last trip to London, I enjoyed a relaxing morning in a quiet and chilly Hyde Park, reading the book I'd bought on the ferry a few days earlier. As I mentioned in my previous post, I've read more than 30 books this year, which has got to be a personal record. I figured since I can't possibly be the only traveller who enjoys reading, I'd share which books I enjoyed most this year.
This post contains affiliate links. To read more about what that means, click here.
The Martian – Andy Weir
I first learned about this book when I saw a preview of the film some time last year. I heard it was based on a book, and since I don't like to read a book after seeing its film, I decided to check out the book. I'm very glad I did, because I loved this book. As a mechanical engineer, I seem to be naturally drawn to science fiction. Sadly sci-fi writers usually have a hard time making the science believable for me. This book, however, did the job perfectly. I finished it in just a couple of days. This book is not a sad story of a man who gets stranded on Mars. Instead, it's a story of a remarkably positive and creative man who makes the most of what he's got in one of the most extreme survival situations imaginable.
Koop hier de Nederlandse versie van The Martian
My Family And Other Animals – Gerald Durrell
Technically this is a re-read, but it deserves a place in this list nonetheless. This book is one of my all time favourites and I had a great time reading it again. It's an autobiographical story of a young boy who moves to Corfu with his family. The eccentric characters and the boy's love for animals manage to turn every single day into a great story. If you want to read a well-written, funny and not too serious book and fall in love with a Greek island at the same time, this is the perfect book for you.
Buy My Family And Other Animals at bol.com
Koop hier de Nederlandse versie van My Family And Other Animals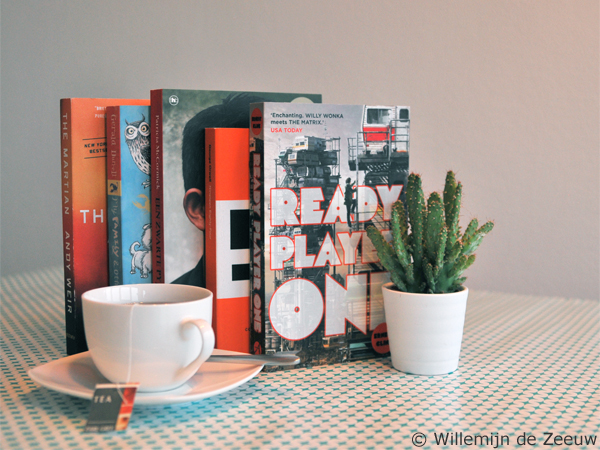 Ready Player One – Ernest Cline
Back in the sci-fi genre, we travel to the Unites States in the year 2044. People across the globe escape the depressing reality of a ruined planet by spending their days in the OASIS. In this virtual reality, most people spend their time hunting for clues in the world's largest easter egg hunt. Ownership of the OASIS will go to the first person who solves the cryptic riddles and puzzles. Due to the creator's love for all things 1980's, people are obsessed with that decade in order to solve the clues. Just like The Martian, this book felt quite believable to me, which made it very enjoyable to read.
Buy Ready Player One at bol.com
Koop hier de Nederlandse versie van Ready Player One
Never Fall Down – Patricia McCormick
It may seem like my reading list was full of sci-fi and comedy, but that's far from the truth. I have read a number of books with true stories about more serious topics. Of those books Never Fall Down was by far the best one. It tells the story of a Cambodian boy who managed to survive during the time of the Khmer Rouge, when a quarter of all Cambodian people lost their lives. Asia is quite high on my travel wish list, and this powerful and heartbreaking story makes me want to learn more about this country I know far too little about.
Buy Never Fall Down at bol.com
Koop hier de Nederlandse versie van Never Fall Down
Nineteen Eighty-Four – George Orwell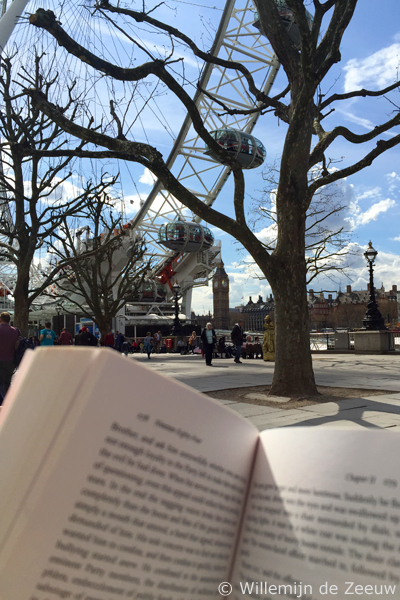 I've been telling myself to read more classics for quite some time now, and this year I finally got started on that. I'd been wanting to read this particular book for quite some time. That feeling only got strengthened by the fact that some of my favourite music by Muse is based on this book. I finally bought a copy of it when I was in London, and managed to finish it before it was even time to leave "Airstrip One" and return home.
Buy Nineteen Eighty-Four at bol.com
Koop hier de Nederlandse versie van 1984
Travellers out there who love reading as much as I do: please leave me a comment to let me know which book made your travels extra special. Or which book is the best one you've read this year. I'll add them to my ever growing "to read" list.