If I could name just one thing to convince you to visit Budapest, it would have to be the great food. There were far too many delicious looking dishes for my three day stay in the Hungarian capital. I seem to have tried sampling as many of them as I could, and returned home with a suitcase full of paprika. If you're on a diet, a trip to Budapest in December could ruin it, but that's a small price to pay for this culinary adventure.

1. Gulyás (Goulash)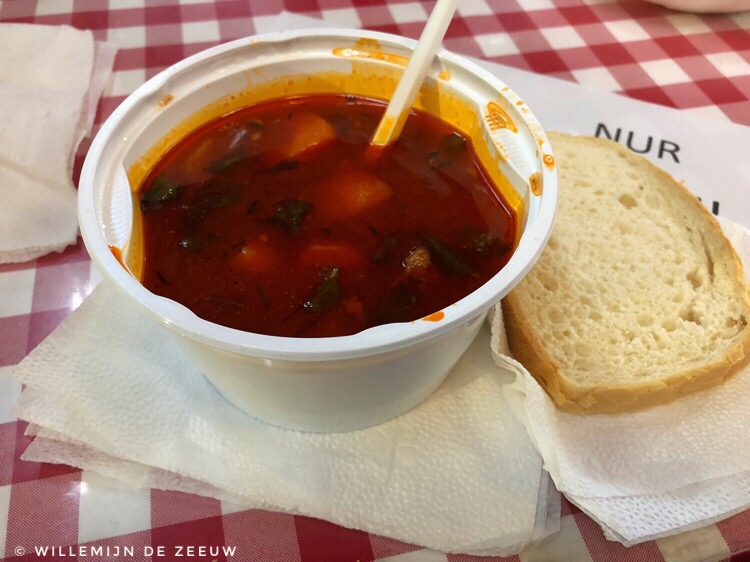 Internationally known as Goulash, this dish is considered Hungary's national dish. It is usually prepared with beef and can be served as a soup or a stew. I've only had the soup, but I liked it so much that I bought a goulash making kit on the same market where I tried the dish. The kit comes with spices, a recipe and the essential ingredient to perfect this paprika flavoured dish: Gulyáskrém. The small tube of goulash cream that came with the kit probably won't last very long when I get around to recreating this dish.
2. Hot smoked salmon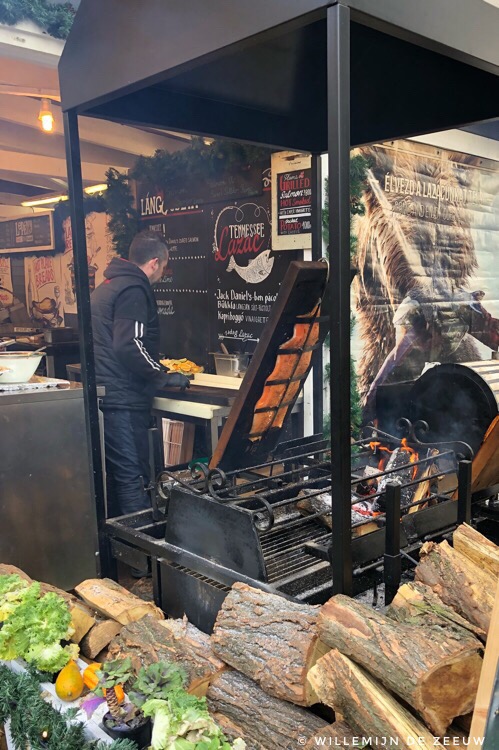 Initially I wasn't sure whether or not to put this one on the list. It might be limited to the Christmas markets. It might not even be very Hungarian. Nevertheless, I came across stalls selling hot smoked salmon at several markets in Budapest. The salmon fillet is tied to a plank of wood and smoked over an open wood fire right there on the market. It is served with roasted vegetables or potatoes, and a wedge of lemon. Just thinking about it makes me hungry, but sadly I don't think there is a way I could replicate this recipe at home.
3. Lángos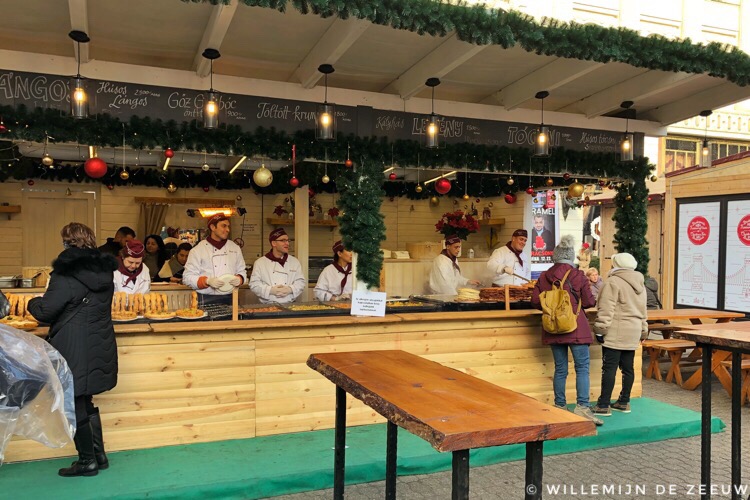 Although it's really not my favourite thing to eat in Budapest, lángos cannot be left out of this list, as they were everywhere. These rather unhealthy pastries, described as "deep-fried flatbread", reminded me of a savoury version of the Dutch New Year's Eve treat called oliebollen. Topped with a wide range of choices from sour cream and cheese to goulash, they're quite a challenge to eat with the provided wooden cutlery. There is also a sweet version, with nutella and fresh fruit, but I haven't tried those. The savoury one I tried tasted alright, but not so good that I tried any of the other options available.
4. Csirkepaprikás (paprika chicken)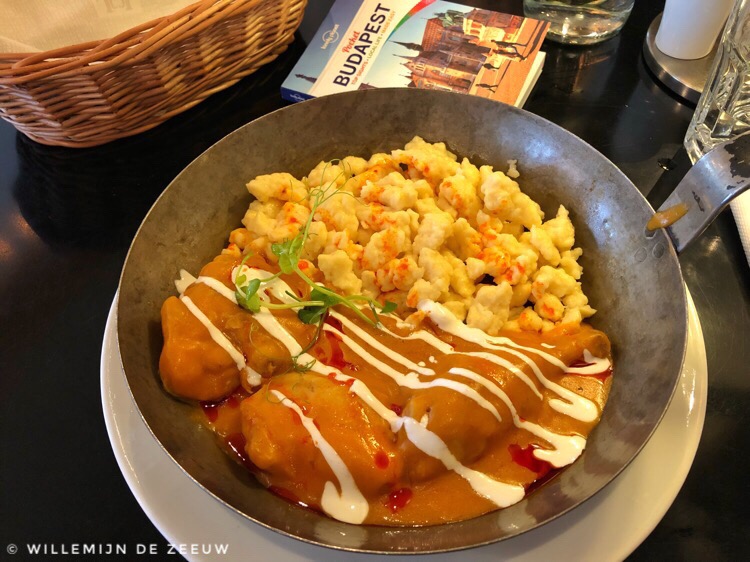 You can usually find this item on the English menu as Chicken Paprikash. Like goulash, this is another Hungarian classic. It is a delicious dish of chicken cooked on the bone in a creamy and rich paprika sauce. It is traditionally served with nokedli, which are usually translated as noodles or dumplings and are very similar to German Spätzle. However, you sometimes find these replaced by rice or tagliatelle. Chicken Paprikash was the best thing I ate in Budapest. I hope to have a go at replicating the recipe soon. It seems like a fairly simple recipe, but I'm sure it's going to be quite tough to get it exactly right. Thankfully I've bought an ample supply of Hungarian paprika.
5. Kürtőskalács (chimney cake)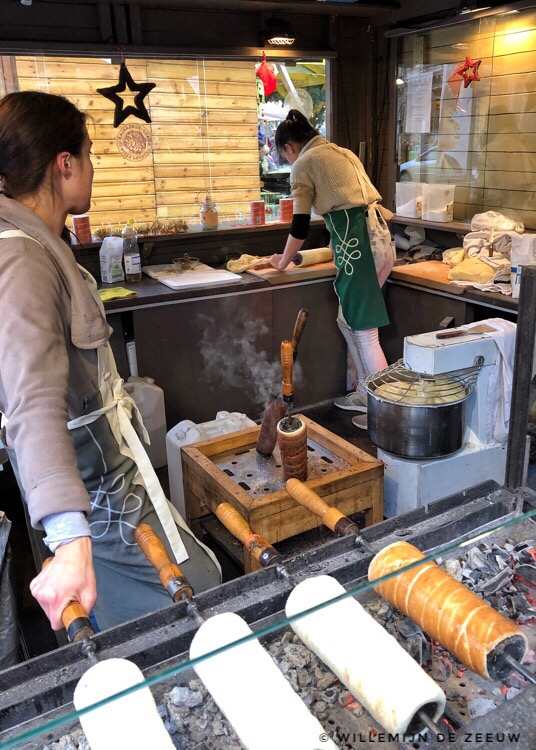 The first time I tried this pastry was during my visit to Prague. It is smaller in size and called trdelník over there, but it tastes very similar. I have been told its origins lie in the Hungarian-speaking part of Transylvania. They are called chimney cakes in English, which makes perfect sense when they are served. Kürtőskalács are made of strips of sweet yeast dough, wrapped around a wooden cylinder, rolled in sugar and baked above red hot cinders. By rotating the pastry above the heat, the dough is cooked evenly and the sugar forms a caramelised crust. Still on the spit, the chimney cake is sprinkled with additional toppings, before being removed from the wood. At this point, the heat from the inside is released as steam, which makes the pastry look like a smoking chimney. Where trdelník in Prague is always covered in cinnamon sugar, the variety of toppings in Budapest was wider. Although cinnamon and walnut seemed to be most popular, other options included cocoa, roasted hazelnut, coconut and even freeze-dried raspberry bits. Roasted hazelnut was my personal favourite, although I wish I'd had the chance to try walnut as well.
6. Rétes (strudel)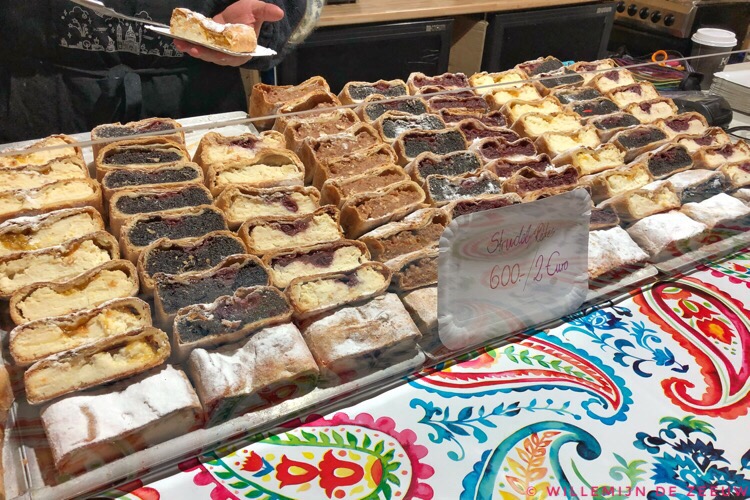 Since I was familiar with the Austrian sweet treat Apfelstrudel, I never even thought there'd be other versions of it. Budapest proved me wrong. Some research has taught me the recipe for strudel is very old, but it became popular in the Habsburg empire, during the 18th century. Of course you will find apple strudel in Budapest, but I would suggest to leave that one to Austria. Choose a different flavour in Budapest, because there are so many options. The flavours include cherry, poppy seeds, and cottage cheese with either cherry or peach. Since I couldn't choose, I asked the vendor for a recommendation. He told me cherry strudel was delicious and quite popular, but his personal favourite was cottage cheese with peach. I decided to go with the latter and I wasn't disappointed. The filling was not overly sweet, which was a nice contrast to the generous amount of icing sugar on top.
7. Marcipán (marzipan)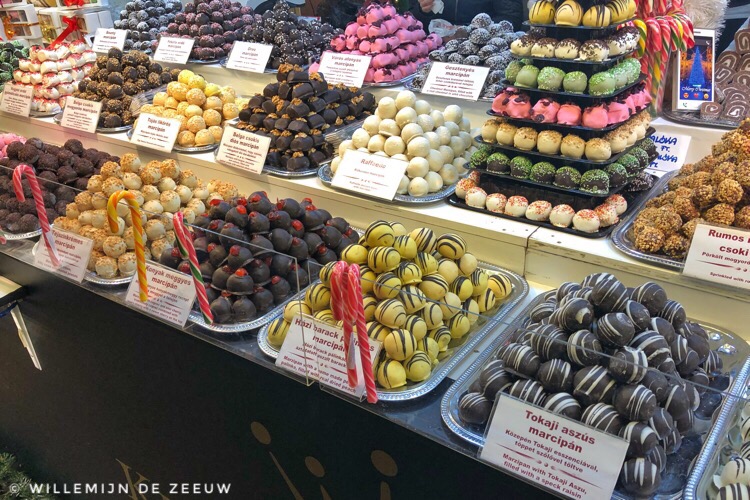 I'm not sure whether or not this is traditionally Hungarian, but I saw colourful chocolate covered balls of marzipan everywhere on the Christmas markets. I have never seen anything like it before. They come in all kinds of flavours, from vanilla to bubblegum or coffee. There was even a collection of flavours with alcohol in them: the yellow ones in the photo are filled with peach and a Hungarian fruit brandy called pálinka. I have too much of a sweet tooth to resist these, so I had to try some. I steered clear of the alcoholic ones, since I don't like alcohol in chocolates. The vanilla bean marzipan covered in white chocolate was my favourite, although the peppermint flavoured one with dark chocolate was a close second.
Have you ever visited Hungary? What are your thoughts on Hungarian cuisine? Have I missed something I should try next time? And for those of you who haven't been to Budapest: which one of these foods would you like to try when you visit? Please let me know in the comments!