After yesterday's crazy adventure, the second day of my journey to Moscow was a breeze. Not long after boarding the train, my roommate and I folded away the seats and pulled the beds out of the wall so we could sleep, setting our alarm clocks for 05:00, for the border crossing between Poland and Belarus.
When I went to bed in the top bunk, I was worried I wouldn't sleep very well. However, the movement of the train actually helped me sleep, rather than prevent it. I woke up well rested and curious to see where the train was. During the night, it had crossed Poland and when I woke up, it was 15 minutes away from the border.
Thankfully, all paperwork is dealt with on the train. In retrospect it's actually very funny to pass through border security in your pyjamas. After both Polish and Belarusian border security had done their rounds through the train, I received my passport back with an entry date stamp on my Belarusian visa. Apparently there's no real border crossing between Belarus and Russia, so this one was for both.
Belarus
I didn't know much about Belarus, because I hadn't researched it much. I only have a transit visa, so I was only passing through. The train made two stops, one in the capital city, Minsk, and one in Orsha, the last city before the Russian border. Both stops were about 15 minutes long. Just enough time to leave the train and stretch your legs. The first thing I noticed was how clean the train stations were. I've been told there are high fines on littering. That seems to be effective, because there wasn't so much as a piece of paper on the ground. In Orsha, I had the opportunity to take a photo of our train. It's so long that I couldn't actually go see the front of the locomotive, because the platform was too short.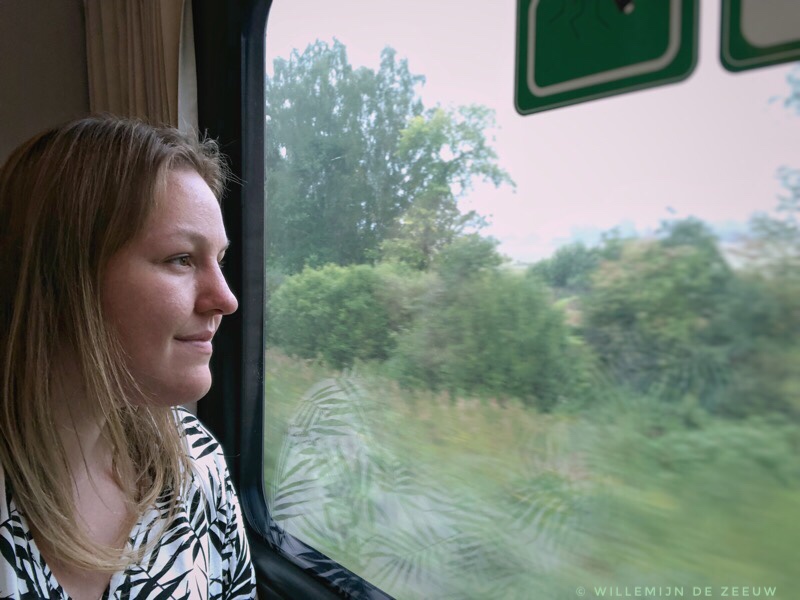 The landscapes in Belarus are fantastic. I found myself spending a large part of the journey by looking out of the window. There seemed to be almost no end to the forests and the fields. The train passed by small towns with old but colourful houses. Then there were train stations that consisted of nothing more than a small platform and two benches. In one of the villages, a couple of farmers were working a field with a horse drawn plough, which is something you really don't see anymore in Holland, except perhaps in a museum. There was even a manned railway crossing with a little watch house where a woman had apparently manually closed the gates to stop the cars and allow the train to pass.
Russia
Not long after Orsha, the train crossed the border into Russia, noticeable only by a text from my mobile phone provider. I felt like the train was climbing to higher ground and sure enough, I started to see hills outside my window. And more trees, mostly birch and evergreen forests. The train then made a short stop in Smolensk. This would be the last stop before Moscow. 4,5 hours to go. I decided it was time for a bite to eat, so I headed to the restaurant car, where I had borscht, a Russian soup with tomato, beetroot, cabbage and beef. I wasn't sure how much I would like it, but it was actually very nice. Then I decided to try something called pelmeni. They are Russian pork dumpings, which tasted really great. Absolutely everything seems to come with sour cream here, which turned out to be a simple, but perfect "sauce" with these dumplings.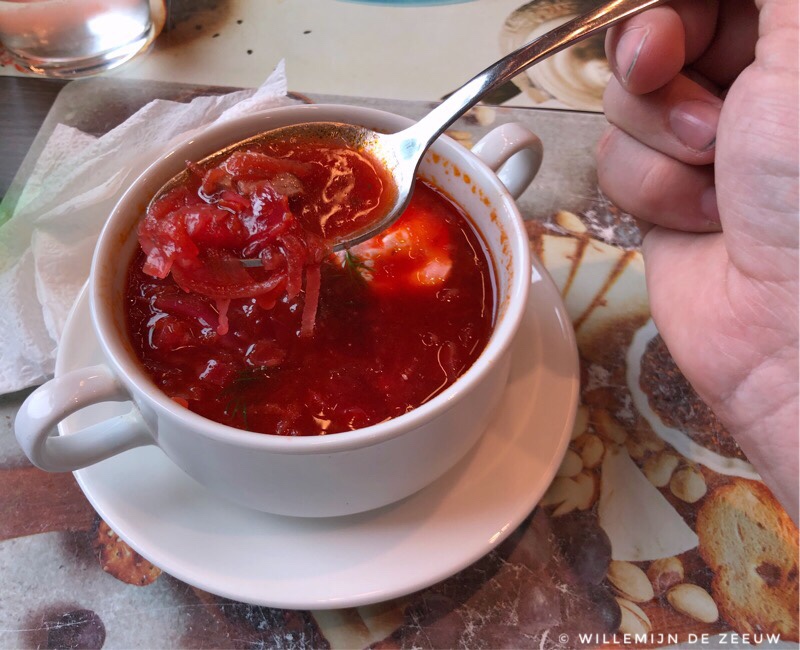 Since there were a couple more hours to go before the train reached Moscow, I got back in my bed to read a book and to repack my backpack. Thankfully, there was a little bit of daylight left when I stepped onto the platform at Belorussky Station, looking for someone holding up a sign. I soon found him and he introduced himself as Dmitry. As he drove me to my hotel, he had no shortage of interesting facts about the buildings we were passing by. At the hotel, he gave me my train tickets for the next two parts of my train journey, which continues on Tuesday.