After travelling for 27 days and about 12.500km on trains, I finally reached Hong Kong. It felt strange to know that the train journey was over. At the same time, I was really excited to explore Hong Kong. During the first couple of days of my stay, I would finally get to hang out with my best friend in her home town.
I was knackered from the last leg of my train journey, so I went to sleep early on the first evening in Hong Kong. The next morning, I was ready to explore and get to know the part of the city where I was staying. My hotel was within walking distance of the waterfront. I picked up a pineapple bun from the local bakery and made my way to the Avenue of Stars. Despite its name, a pineapple bun doesn't actually contain any fruit. Instead, the name comes from the crust's resemblance to the outside of a pineapple. It's usually served with a chunk of butter inside it. I think it's my new favourite breakfast.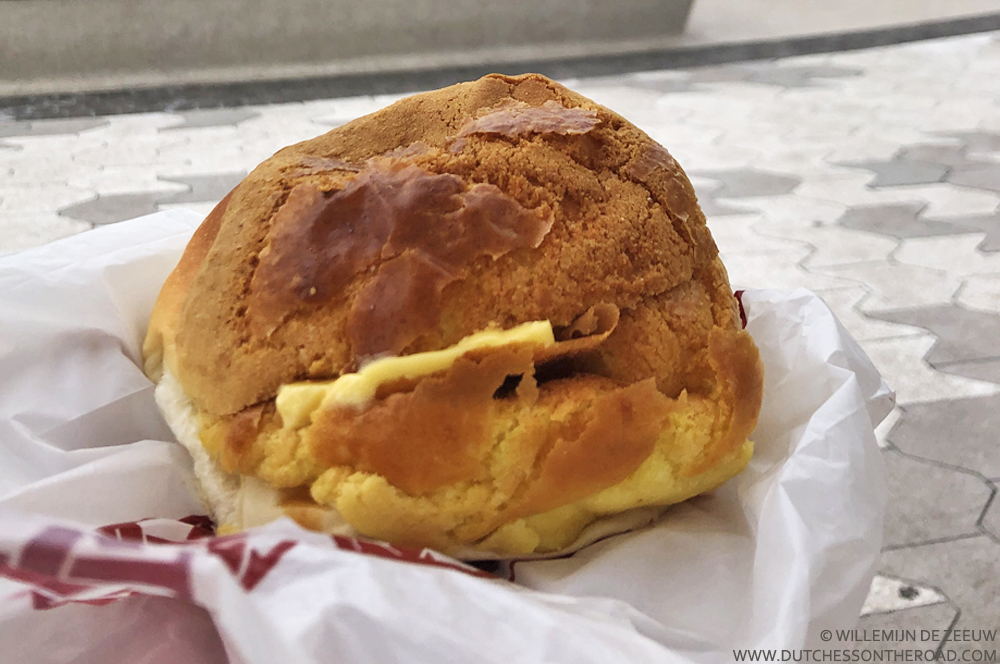 Avenue of Stars
The Avenue of Stars is Hong Kong's version of the Hollywood Walk of Fame. It celebrates the stars of the Hong Kong film industry. Unfortunately, I don't know much about Hong Kong films. However, I think the Avenue of Stars is still worth a visit. It is located along the Victoria Harbour waterfront and was recently renovated. Here, visitors can admire hand prints of their favourite film stars. Futuristic structures on the opposite side of the path offer some welcome shade in the blistering heat, making them a great place for people watching.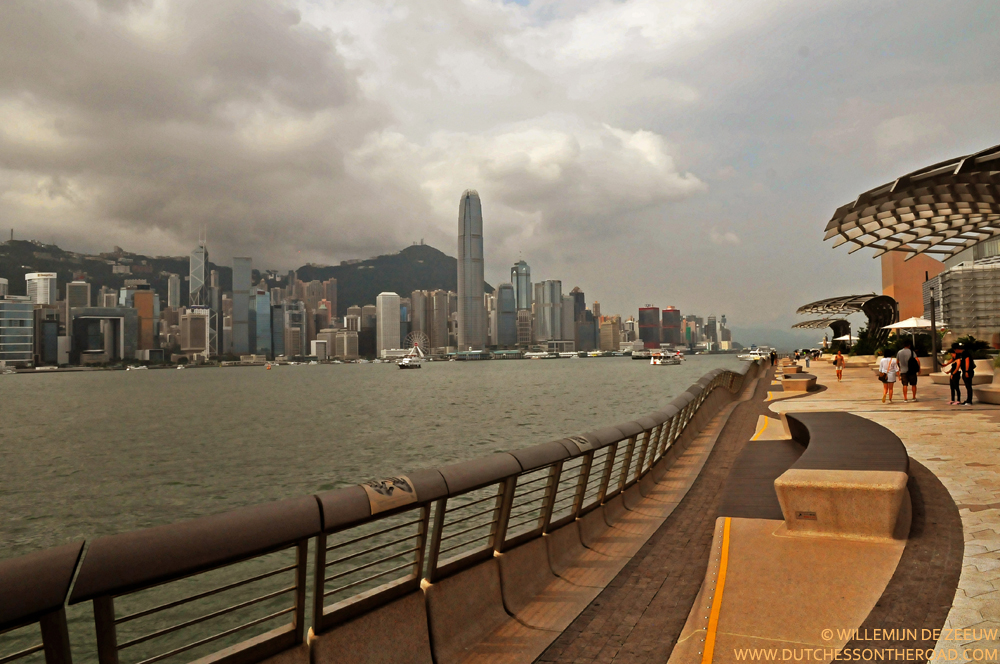 I thought it had been hot in Beijing, but that turned out to be nothing compared to Hong Kong. The temperature was around 32°C for most of my time there, but the humidity was so high that it felt much hotter. I sat down in the shade for a while and watched the view, and the handful of other visitors there. The iconic view of the Central district across the harbour didn't disappoint. Central is the main business district on Hong Kong Island, where the most well-known skyscrapers are. It was quite surreal to finally see this view in person, after seeing hundreds of photos of it over the years.
I spent the rest of the day just wandering around, getting to know the neighbourhood my hotel was in. Conveniently, the closest metro station was just around the corner from my hotel. I went there to buy an octopus card, which would make using the MTR (Hong Kong's metro system) much easier.
Mid-Autumn Festival
In the evening, I met my friend Janet inside Jordan MTR station. It was wonderful to see each other again, even though this time it had only been one and a half years since we last saw each other. I had planned my arrival in Hong Kong to coincide with the Mid-Autumn Festival, and we were on our way to Tai Hang, on the other side of Victoria Harbour.
To explain my fascination with the Mid-Autumn Festival, I must take you back some 15 years to when Janet was living in Holland as a foreign exchange student. I remember one day she brought a tin of mooncakes to school. I had no idea what they were, and neither did any of our friends. Although the outer layer of the mooncakes tasted nice, unfortunately none of us really liked the strange taste of the filling. However, I was fascinated with the festival, which is celebrated during a full moon in September or October. I obviously didn't plan my whole trip around this event. That said, since I knew I would be travelling during early autumn, I did all I could to be in Hong Kong for the Mid-Autumn Festival.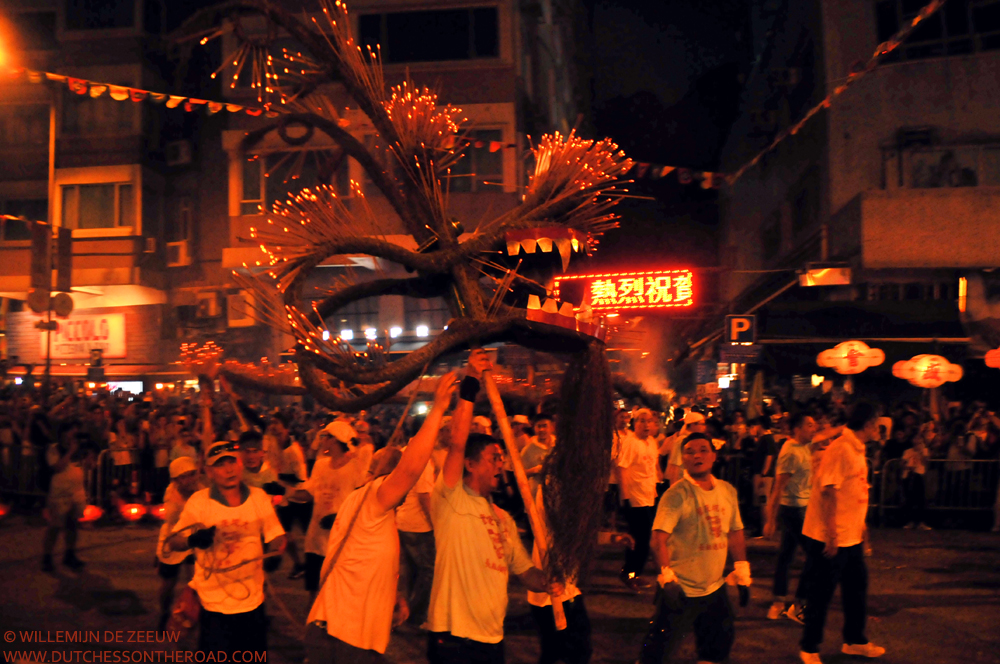 When I researched for activities during the festival, I came across information about the Tai hang Fire Dragon Dance. Tai Hang is a former village on Hong Kong island that has been swallowed up by the metropolis. I asked my friend about the event, and to my surprise she said she'd never been. So here we were, on our way to Tai Hang. I didn't quite know what to expect, but I had a fantastic evening. This year marked the 140th anniversary of the Fire Dragon Dance and the streets were filled with locals as well as tourists.
Hundreds of people work together on the performance, carrying a 67 metre long dragon through the streets of Tai Hang. The dragon is covered in burning incense sticks, filling the air with fragrant smoke and giving it the name "fire dragon". As you might expect, it takes quite a few people to carry the dragon through the streets and even more people to organise the event. I felt very immersed in a culture completely different from my own, as I watched the dancing dragon and felt the heat of the burning incense radiating on my face as it passed by me.
Mong Kok markets
Unfortunately Janet couldn't get the saturday off work, so we met again in the late afternoon. We took the MTR to Mong Kok, the best part of the city to go shopping. Here you can find a great variety of small oldfashioned shops as well as large modern malls. Footbridges connect the different areas, keeping pedestrians away from the busy roads. Most of the footbridges were full of people that day. My friend told me that most of the people gathered there were domestic helpers, who live with the families they work for. The day following Mid-Autumn Festival is a public holiday, and the domestic helpers have a day off. On days like these, many of them go out and meet up with their friends. The footbridges offer shelter from the sun and everyone comes together to chat and have a picnic .
We explored some of Mong Kok's famous "markets". Most of these markets are just shopping streets instead of the stalls I would expect when I hear the word market. It was fun to explore this area though. I noticed that similar shops tend to be together in the same street, another thing I'm really not used to. The street full of pet shops – known as the goldfish market – looked particularly strange to me. Instead of having the fish in tanks, and scooping a fish into a bag when it is bought, each goldfish is already in its own plastic bag. If they're lucky, there's also a small piece of a plant in there. It looked very strange to me, and some of the bigger fish didn't look particularly comfortable.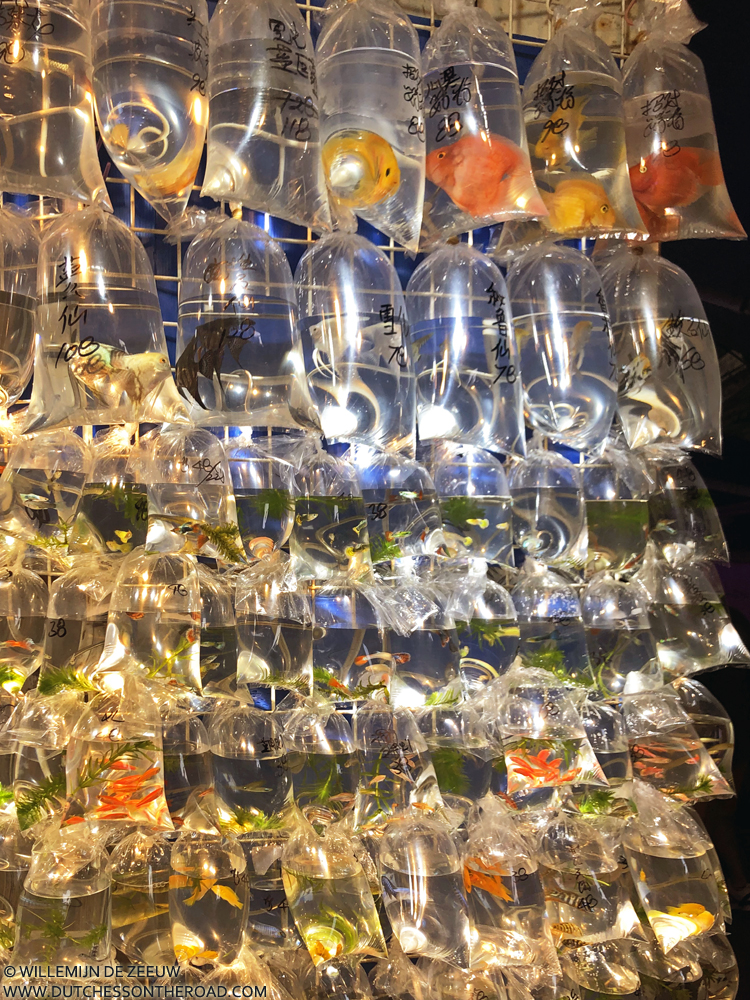 After making our way through the goldfish market, we headed to a Thai restaurant in one of the shopping malls for dinner. I love the diversity in restaurants in Hong Kong. The city is so large and so multicultural that you can find just about any type of food here. I hadn't had Thai food before, so I didn't have anything to compare it to, but I really enjoyed it. That day was also my parents' 35th wedding anniversary, so naturally, Janet and I had to celebrate. Thankfully, the restaurant served fantastic crepe cakes. We also rang my parents to congratulate them, which made me feel a little bit less guilty for not being at home with them to celebrate.
Kowloon Peak
In the evening, Janet's dad picked us up to drive us to Kowloon Peak. I loved meeting him, even though the language barrier prevented us from talking much. Kowloon Peak is much less known with tourists than the incredibly popular Victoria Peak on the other side of the city.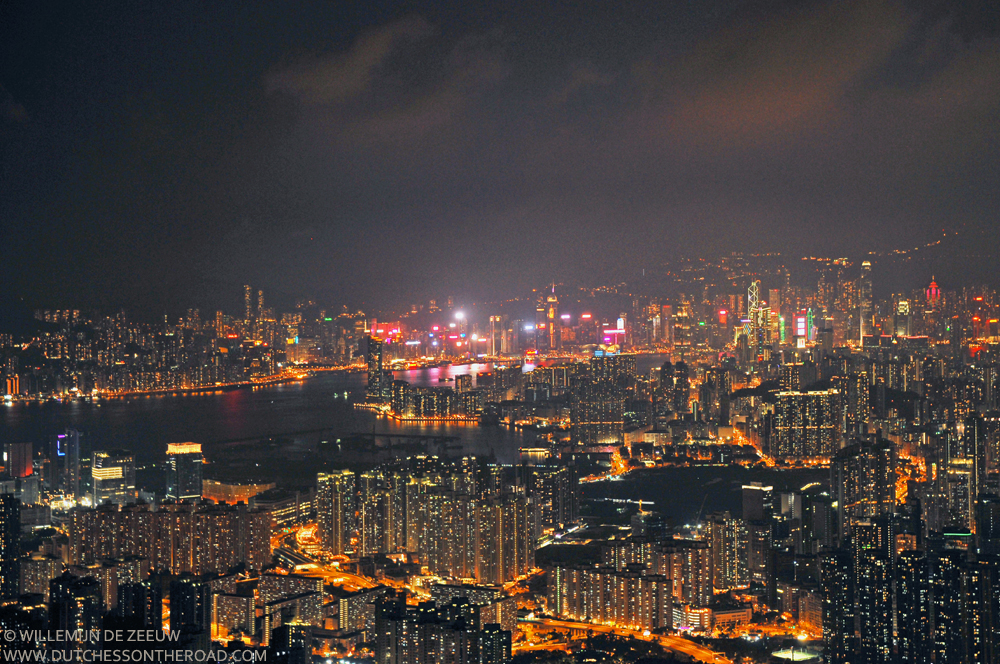 Nevertheless, the views were great. During the drive up the mountain you can catch glimpses of the brightly lit scyscrapers through the trees, but it isn't until you reach the viewing point when you realise just how many scyscrapers there are in this city. For someone who grew up in a country that doesn't have that many of them, it was quite a sight to see. It's impossible to comprehend the sheer number of people who live in this city. I can only imagine what it must be like to come to this viewpoint on one of those rare mornings with clear weather and watch the sun rise. I must remember to do that next time I visit Hong Kong.
Have you heard of Mid-Autumn Festival before? Or have you ever visited another country during one of their public holidays? What did the experience teach you about that country? Let me know in the comments!