As it turns out, big cities aren't exactly ideal road trip destinations. During my tour of Italy, this became particularly clear in the capital city. Despite that, I only needed two days in Rome to fall in love with this city. I can't wait to return for a more extensive visit of Rome and the smallest country in the world: Vatican City.

Anzio
After a terrible night in a coastal town to the west of Rome, my friend Dom and I had relocated to Anzio. The campsite we'd picked was situated between the beach and a long street full of shops, restaurants and, most importantly, a bus stop. Public transport in this country can be difficult to figure out. The easiest way to do it is to walk into a tobacco shop and ask. They sell the tickets and will be able to tell you which bus you need. Thankfully, it was a direct route from the campsite to Rome Laurentina station. From there, we took the metro into the city.
Let me tell you up front: we didn't see nearly as much of Rome as I'd hoped. This was mainly due to poor research and planning. We'd decided to make it up as we'd go along. However, that wasn't the most efficient strategy to spend two days in Rome.
Day 1: Rome
We exited the metro station to one of the most incredible sights in Italy: the Colosseum. Dozens of people tried to ruin this magical moment by loudly offering expensive tours that would allow us to skip the queues. Ignoring all of them, we crossed the road to have a closer look for ourselves. We decided to do some exploring first, and to return to see the inside of the Colosseum after lunch. We followed Via dei Fori Imperiali, the controversial street that cuts straight through the historical heart of Rome, towards the Piazza Venezia. From this road, we had some great views of what's left of ancient Rome.
Trastevere
We were on a mission to find a good spot to have lunch. Oddly, the one thing I actually had done proper research for, was food: we were on our way to Trastevere. We got distracted by a gigantic white marble building during our walk. Dominating the Piazza Venezia square is the country's monument to the first king of a unified Italy, Victor Emmanuel. We were astonished by the sheer size of this monument, which has been aptly named Altare della Patria (Altar of the Fatherland). I'm not at all surprised it took 40 years to complete.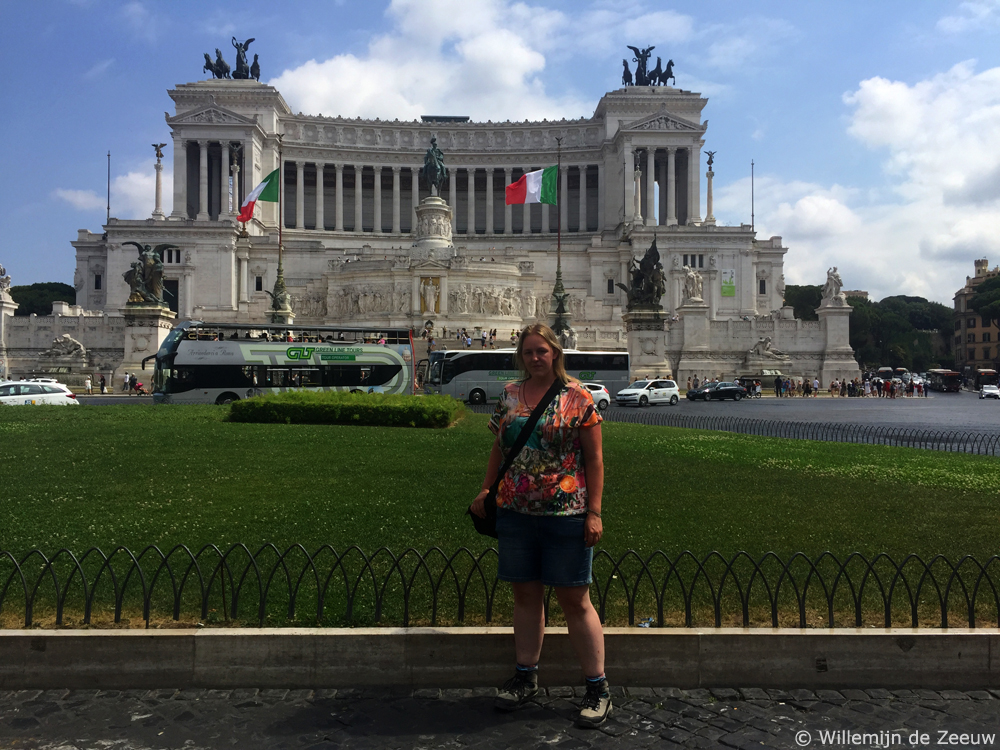 We continued our walk toward Trastevere, a neighbourhood on the opposite side of the river Tiber. To get there, we walked across the small island Isola Tiberina. Due to the distractions during our walk, our late lunch turned into an early dinner. Fortunately, this turned out to be a good thing. During the evening, Trastevere can get a little crowded. Since we arrived there early, we practically had it all to ourselves. We soon found a small restaurant. I'd been looking forward to this meal, because I really love pasta. What better place to try one of my favourite pasta dishes, spaghetti alla carbonara than in the city where it originated? I was not disappointed. I have never had a better version than here in Trastevere. Even after a plate of pasta, I couldn't resist having dessert. I picked millefoglie al cioccolato, a chocolate covered version of the French dessert mille-feuille.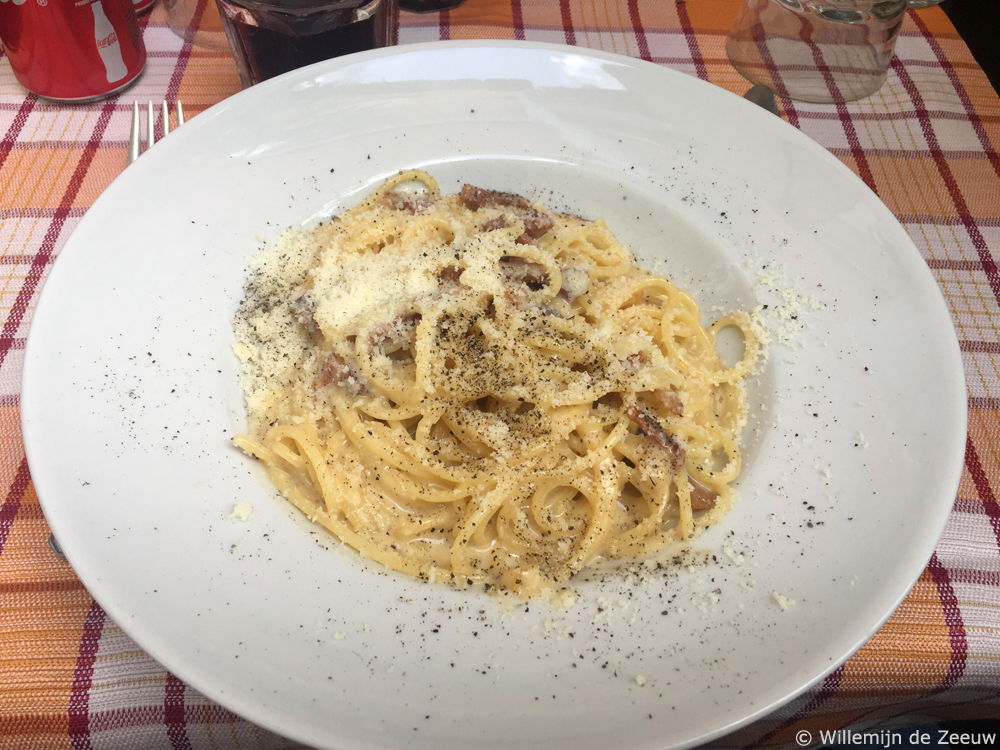 Colosseum
After lunch, we planned to walk back to the Colosseum for the tour, but got side-tracked again by the beauty of ancient Rome. We walked past the other side of the archeological site and found some of the best views of the Forum Romanum. When we eventually made it back to the Colosseum, we discovered that we'd lingered for too long. The gate shut at the exact moment we arrived. We tried asking the guard if he could make an exception for us, but it turned out that the ticket office had already been closed for an hour. I was slightly disappointed, but we had two days in Rome, so I figured we'd get our chance the next day.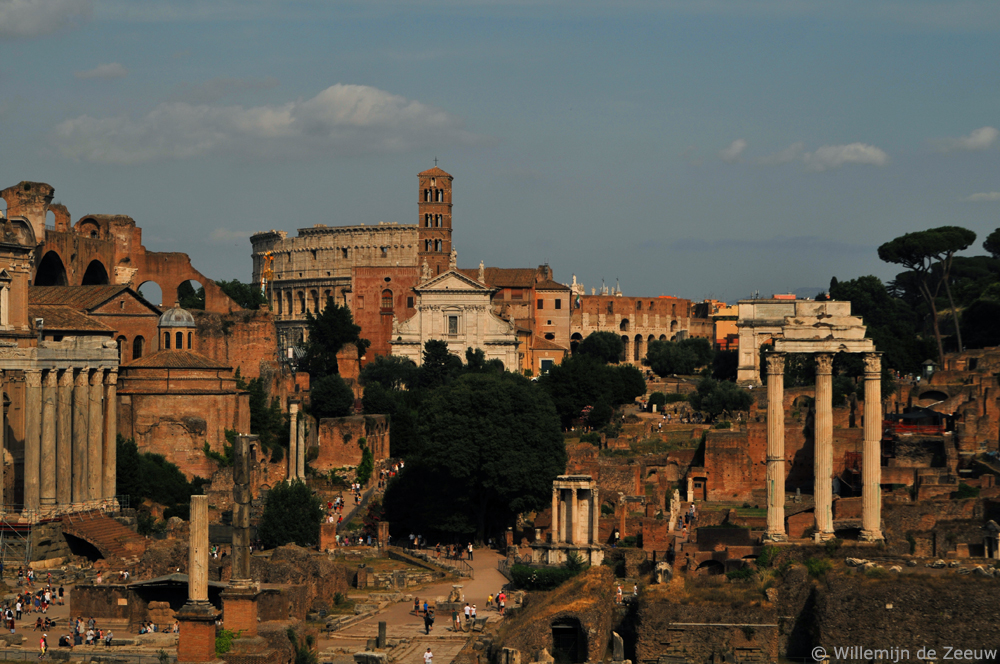 Day 2: Vatican City
We once again started our day by travelling into Rome by bus and metro. The main goal of the day was to visit the smallest country in the world: Vatican City. I had wanted to visit St. Peter's Basilica for a very long time. Needless to say, I was very excited about this day. Like the day before, we had a late start because of the lengthy journey by public transport.
St. Peter's Basilica
Our late arrival put us on St. Peter's Square during the hottest part of the day. We heard the queue was about 45 minutes long. We had nearly melted – but survived – during our Cinque Terre hike, so I figured we'd be alright. You're required to dress appropriately for a visit to the cathedral, which means no shorts and tank tops. Thankfully I had a solution for this that didn't require me to wear long jeans. I was wearing shorts, but I had wrapped a long thin scarf around myself. The resulting look was not exactly charming, but it was deemed good enough. We effortlessly passed through security, after which we could finally walk in. St. Peter's Basilica was every part as stunning as I had imagined it to be. I spent quite a while marvelling at the gorgeous marble floors, golden ceilings and incredible paintings.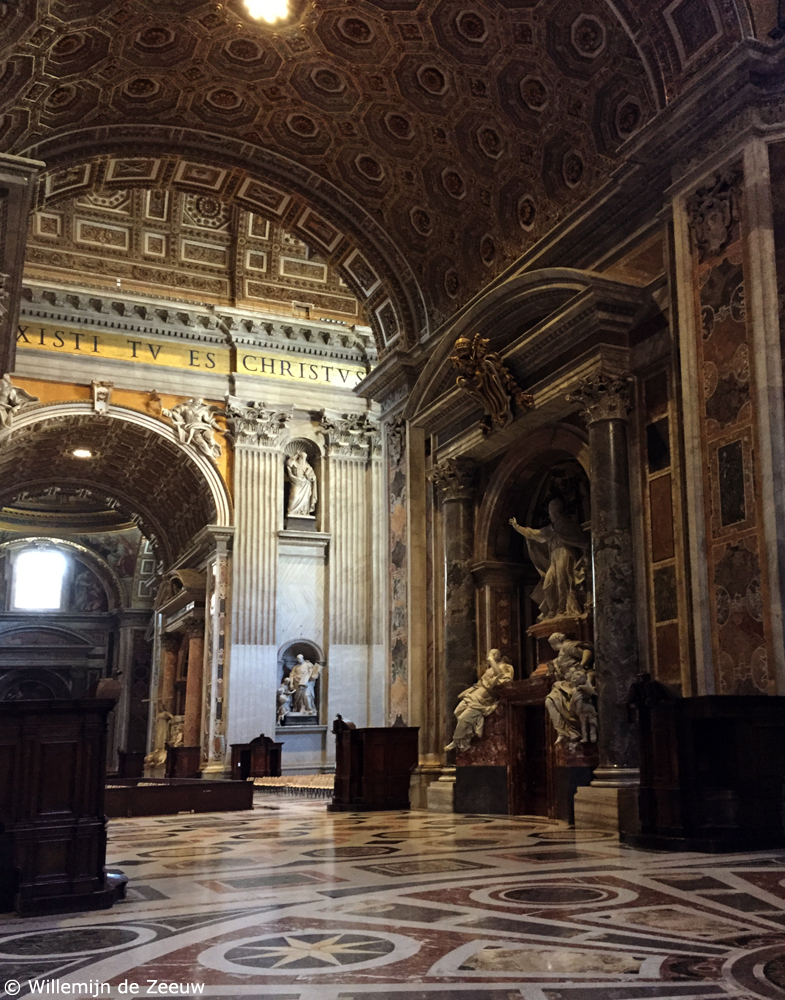 Another late lunch
After our visit to the cathedral, I took a small detour into a shop to buy post cards and stamps. I didn't want to miss the opportunity to send cards home from the smallest country in the world. Besides, the Vatican's postal service is said to be one of the most reliable in the world, unlike the Italian postal service. After posting my cards, we both realised it was well past lunch time. We decided to grab a quick bite to eat before heading to the Vatican Museums.
When we finally found the entrance to the Vatican Museums, we realised we'd made the same mistake as the day before. Except this time the door didn't close the moment we arrived. It had been closed for nearly an hour already. The temperature in the city was still quite high. We were once again too late to visit the Colosseum, so we decided to just call it a day. We made our way to the nearest metro station, to return to the campsite and go to the beach.


My two days in Rome
Although several things could have been planned a lot better, I can't say I regret anything. I had a great time in Rome and Vatican City. I saw ancient Rome, I tasted the best spaghetti alla carbonara I've ever had and I finally made it to the most famous church in the world, in the smallest country in the world. My two days in Rome were brilliant and I wouldn't change a single thing. I hope to return in the future. Perhaps I will manage to visit the Colosseum then. And the Vatican Museum, as well as lots of other sights we couldn't possibly have fitted into two days.
Have you visited Rome? What are your favourite memories of this city? Can you recommend a place I should definitely not miss if I return to Rome in the future? Please let me know in the comments!