When my train arrived in Irkutsk on Saturday morning, I went straight to the most popular destination on Lake Baikal's 2000km long shoreline: Listvyanka.
Listvyanka
Situated about an hour's drive from Irkutsk, it's a popular summer getaway for Russians, as well as the most obvious choice for foreign tourists visiting Lake Baikal. When I arrived, the weather was not ideal. Low hanging clouds were hiding the mountains on the opposite side of the water.
I don't know if the weather influenced my opinion, but I really didn't like Listvyanka. I suppose I had a romanticised picture in my head of an authentic little Siberian mountain town by the lake. In reality, it's one of the most touristic places I have ever seen. So much so, in fact, that the busy area around the market almost felt fake, like it was some kind of theme park.
Trying smoked omul
Nevertheless, I visited the market, because I was eager to try a local speciality. The lake is home to lots of endemic species, among which many kinds of fish. The one I was looking for in the market was smoked omul. I soon found some and made my way to the pebbly beach with it, to have lunch. It looked like it was about to rain, and I'd seen the picnic tables on the beach that had a roof over them. However, as soon as I sat down, a man came over to get money. Apparently sitting there costs 200 rubles per hour. Since that would have been more expensive than my food, I decided to leave.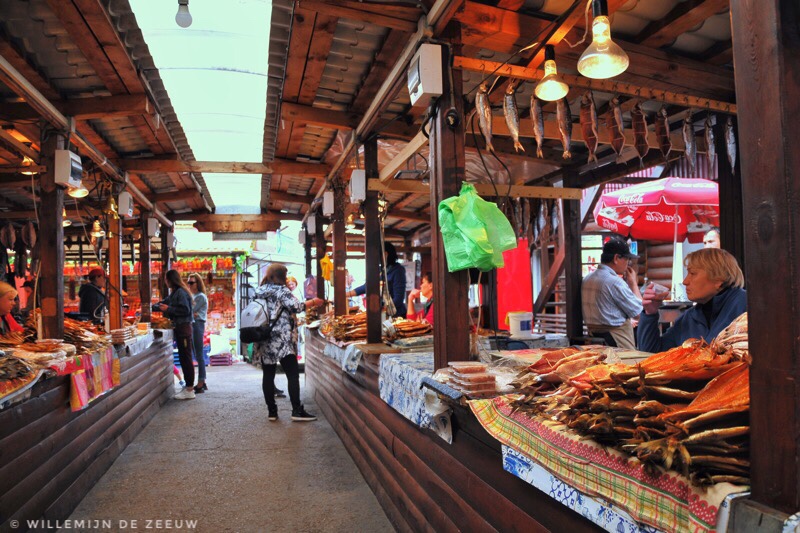 Along the shore, the owners of several boats had put up speakers with loud music. Through microphones they advertised for excursions on the lake. After a while I found a relatively quiet spot to eat my lunch. Paired with some flatbread from the market, the warm smoked fish tasted amazing. I made another quick trip into the busy part of the town and found a supermarket, where I bought some groceries for the next day.
Hiking the Great Baikal Trail
On Sunday morning, I left the guesthouse to meet up with my guide for the day, Sergei. He's a very experienced hiker and a knowledgeable guide. We would be hiking from Listvyanka to the neighbouring town of Bolshiye Koty. The path, which is part of the ambitious "Great Baikal Trail" project, would lead through the forest and over the mountainous terrain along the shore of Lake Baikal. I'm a very inexperienced hiker, and from the moment we set off, I was worried about the time. What I had been told was 20km, turned out to be 24km. What I thought would be a manageable uphill hike, turned out to be more of a climb. The first hour of the trail was, as Sergei called it, quite "steepy". Shortly after we'd finally reached the highest point, I was rewarded with my first view of the lake. I stood on top of the hill with tears in my eyes. The view of the lake was breathtaking, and it was a great reward for the tough climb. The way downhill was much less steep and took us through a gorgeous forest. We had to climb over fallen trees and cross small streams to arrive at the beach where we'd pause for lunch.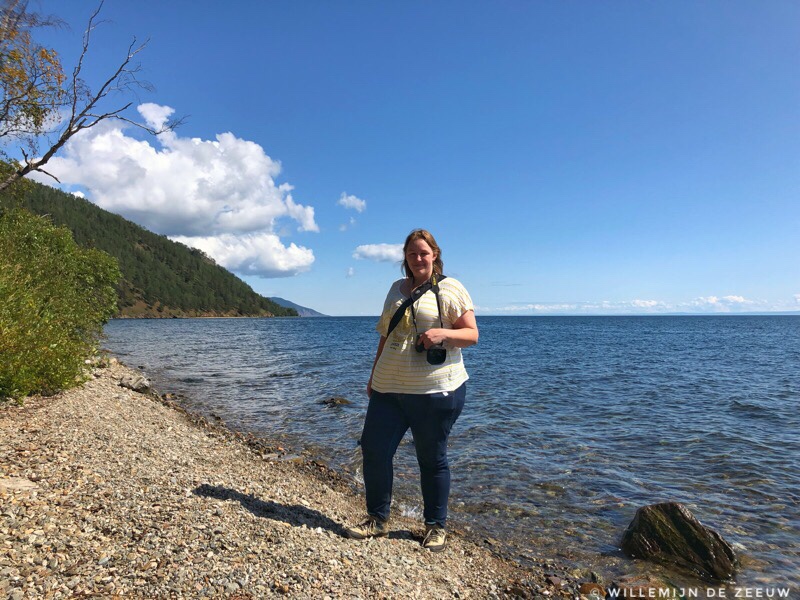 Whilst I was taking photos and getting to know a Dutch couple who had also stopped for lunch, Sergei unpacked his large backpack and revealed the most extravagant lunch of my whole trip so far. He had brought potatoes, sausages, fresh fruit and vegetables, an amazing lightly pickled cucumber (which tasted a little salty, but still fresh and juicy as well), pancakes, bread, honey, tea, milk, chocolate and sweets. After eating slightly more than I probably should have, he packed his bag again and we continued our journey. Ascending the first hill was not the most pleasant thing to do on a full stomach, but soon we were out of the forest and the views kept getting better. From up there, the water near the shore looked almost green, as if it was the Mediterranean Sea.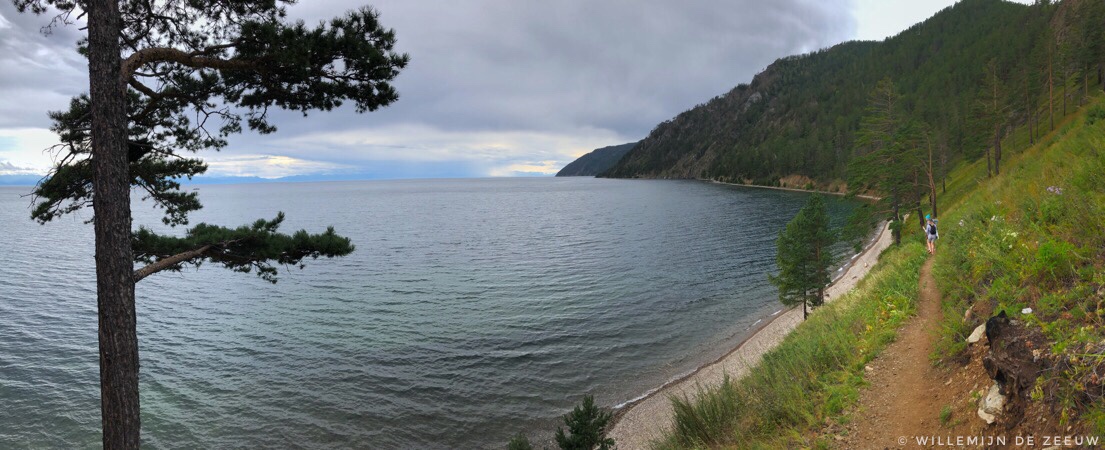 I was getting quite exhausted. I worried about the time and every time I mentioned it, Sergei suggested that we should try to go a little bit faster. We had a boat to catch and time was starting to run out. The last two hours were a struggle, especially since the last part would be along a road. That road turned out to be more of a track in the dirt where only experienced 4×4 drivers can safely find their way up and down the hills. Increasingly nervous, I did all I could to walk faster, but my tired legs started to stumble on roots and rocks. Eventually, we set foot on the pier at 17:57, where at 18:00, a hydrofoil would take us to Irkutsk. When I could finally sit down, utterly exhausted from trying to get there in time, we were informed the boat would be half an hour late. Needless to say, I was not amused.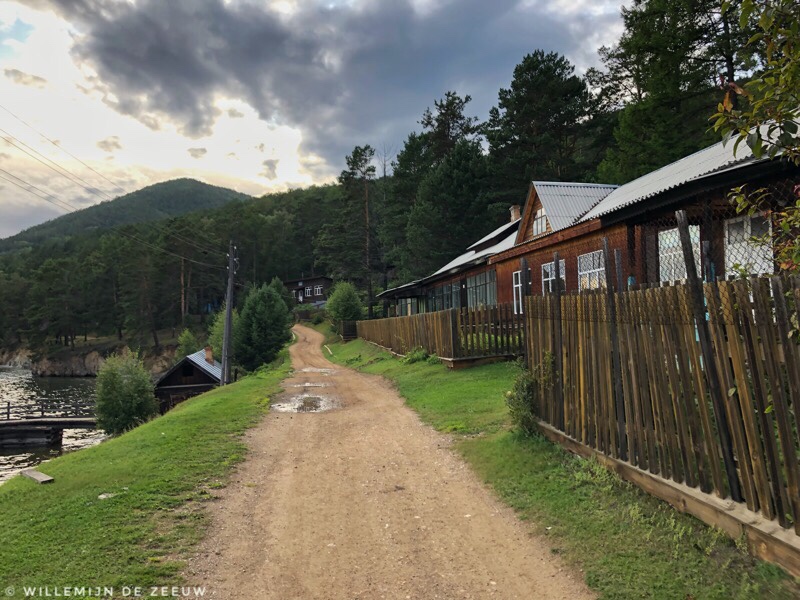 When we arrived in Irkutsk, it was nearly dark and it started raining. Our driver, who had looked after my backpack for the day, took me to a lovely homestay in the historic city centre. Too tired to go out for dinner anymore, I took a hot shower, ate two packets of instant noodles and went to bed early.
I would have the next day to explore Irkutsk, before I had to say goodbye to Russia, and get on a train to Mongolia (where I currently am). However, since my hiking adventure was quite a long story, I'll save my visit to Irkutsk and the train ride to Ulaanbaatar for the next blog.